Like condoms, data now comes in big and HUGE sizes
Linux Foundation lights a fire under storage devs with new conference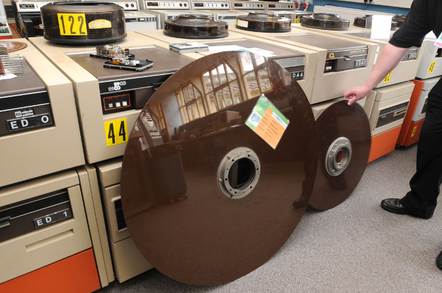 If condoms were made in a range of different sizes, the old joke goes, the options would be "huge", "gigantic" and "enormous".
We mention the joke in reference to The Linux Foundation's decision to create a new conference, called "Vault", to "... bring together the world's leading developers in filesystems and storage in the Linux kernel with related projects to collaborate on continued innovation and education".
Linux Foundation chief marketing officer Amanda McPherson says the conference is needed because "90% of the world's data has been created in the last few years", most of it managed under Linux, but the time is now to plan "new methods of improving capacity, efficiency and security to manage the huge data volumes envisioned in the coming years."
Just how developers will wrestle a problem that big hasn't been decided: Vault will take place in March 2015 and its agenda is understandably sketchy at this stage.
What is certain is that plenty of colossal storage concerns are standing to attention ahead of the event: Facebook, IBM, NetApp, Omnibond, Red Hat, SanDisk, Seagate, and SUSE are "founding supporters", while representatives of EMC, Google and SUSE are on the shindig's organising committee.
A call for presentations has gone out, with the following topics suggested as worthy of discussion:
Object, Block, and Filesystem Storage Architectures (Ceph, Swift, Cinder, Manilla, OpenZFS)
Distributed, Clustered, and Parallel Storage Systems (GlusterFS, Ceph, Lustre, OrangeFS, XtreemFS, MooseFS, OCFS2, HDFS)
Persistent Memory and Other New Hardware Technologies
Filesystem Scaling Issues
IT Automation and Storage Management (OpenLMI, Ovirt, Ansible)
Client/server filesystems (NFS, Samba, pNFS)
Big Data Storage
Long Term, Offline Data Archiving
Data Compression and Storage Optimization
Software Defined Storage
Submit ideas for talks here. ®
Sponsored: Learn how to transform your data into a strategic asset for your business by using the cloud to accelerate innovation with NetApp