Euro banks will rip out EVERYTHING and buy proper backend systems ... LOL, fooled ya
Survey says everyone's winging it with IT, as usual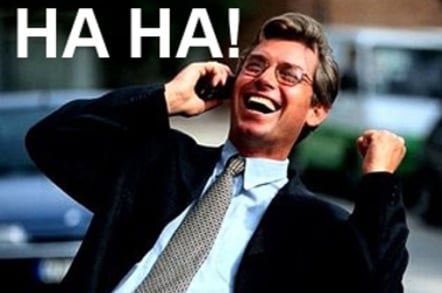 European banks are in a "holding pattern" when it comes to integrating the latest technology into their core banking systems, with the majority only carrying out modernisation initiatives when necessary rather than with a view towards long-term transformation, according to a new survey.
None of the 27 banks or two financial services solution providers surveyed as part of a recent study by IBM (22-page/1MB PDF) was contemplating the complete replacement of their core banking systems, which the firm said was consistent with its "day to day experience with clients".
Instead, banks were carrying out "highly-targeted" modernisation work reflecting tight IT budgets and the need to take into account front-office digitisation and regulatory requirements, according to a blog post by Simon Gregson, one of the researchers.
"Most of the banking leaders we interviewed neither embraced fundamental transformation of core-banking systems as a strategy nor saw the need for it," Gregson said. "They are clear about where they want to get to and the broad direction of their journey, but find that the only practical way to get there is through incremental steps rather than wholesale transformation."
"The results reflect an industry that is in a holding pattern - coping with the most urgent change requirements but failing to address the long term needs. This leaves banks in Western Europe very vulnerable to disruption from more agile entrants into their market," he said.
The survey took 'core' banking systems to mean the transactional parts of banks' IT systems; dealing with customers, product systems, agreements and arrangements. Many of the surveyed banks also considered payment systems to be part of their core platforms, while a few also included channel and reporting systems.
Just over half of the surveyed banks agreed with the idea that industry leaders needed to start thinking of transforming their core banking systems in order to remain competitive, IBM said. It also found that individual bank leaders believed that their own organisations were in better shape than the industry as a whole.
Two thirds of survey respondents agreed that European banks were forced to spend a disproportionate amount of their total IT budget simply on maintenance of their core banking platforms, with only smaller domestic banks not subject to that trend. Respondents also agreed that their budgets were "heavily skewed towards mandatory and regulatory change", leaving little left to invest in new capabilities.
According to IBM's report, banks' existing systems tended to be rigid and inflexible because of the "complexity and age of the design", and the use of multiple legacy platforms made it harder to understand, run and change systems. Although banks saw changes and investment as "inevitable", the business case was often "difficult to justify", it said.
The survey also found that EU bank leaders were "not yet actively thinking about cloud for core banking transformation". To date, European banks have shown little interest in cloud computing platforms as a means of delivering their core services due to a combination of regulatory uncertainty. However, IBM's New Zealand subsidiary recently announced that it had signed an "extensive" five-year agreement to provide services through its private cloud service to Westpac New Zealand, a bank to which it has been providing infrastructure services since 2000.
"The agreement supports Westpac as it embarks on a significant transformation from a traditional bank to one that uses cloud computing, enabling it to address key market trends such as social and mobile adoption to influence the way consumers prefer to bank today," IBM New Zealand said in a statement.
"By adopting IBM private cloud capabilities to develop and test tools within a dedicated environment, Westpac will be able to deploy new online and mobile banking services faster and across multiple devices and platforms in response to customer demand. As customers' digital footprints expand and the bank's security demands change, IBM is helping Westpac respond with enhanced online security features, such as the ability to manage identity and access through a single user ID," it said.
According to the announcement, Westpac will move some of its "business critical" IT systems to IBM's data centre in Auckland as part of the deal.

Copyright © 2014, Out-Law.com
Out-Law.com is part of international law firm Pinsent Masons.
Sponsored: Minds Mastering Machines - Call for papers now open