EE plonks 4G in UK Prime Minister's backyard
OK, his constituency. Brace yourself for EXTRA #selfies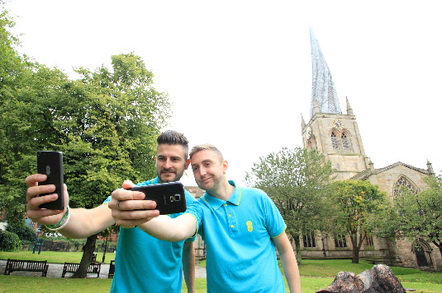 While EE didn't win our Monopoly board coverage survey, the formerly fruity network did prove to be top dog for data speeds – and that's down to having more spectrum than its rivals.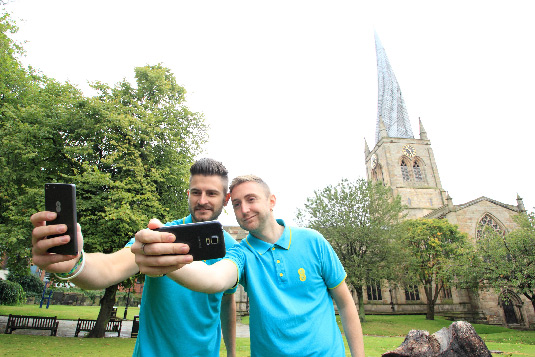 Chesterfield local store manager Adam Osowski asks a fellow EE employee: "Do my ears look big in this?"
Now the company is sharing 4G goodness with 13 more places to reach three-quarters of the UK population, and top of that list (if you put it in reverse alphabetical order) is UK Prime Minister David Cameron's constituency of Witney, prompting Downing Street Dave to say: "The arrival of EE's 4G mobile services in Witney is a huge boost for local companies and people living in the area. Now the latest generation of mobile technology has arrived, Witney is now an area where it is even more attractive to live, to work and to do business. The arrival of 4G makes this part of Oxfordshire one of the best connected areas in the UK."
Of course, it almost certainly isn't. Probably the best connected area is Silicon Roundabout – where EE is conducting its experiments on LTE-A – but never mind. The PM has famously said that he takes his BlackBerry with him wherever he goes, so you do have to feel a little sorry for him. You'll also note that he stops short of saying which network he is on.
The Lucky Thirteen in full are: Buckingham, Burntwood, Chesham, Chesterfield, Dalkeith (Scotland), Glossop, Hertford, Rugeley, Sheerness, Thornaby-on-Tees, Ware, Wickford and Witney. The additions take the number of places with EE 4G in the UK to 263. So don't go thinking your constituency was important, Mr Cameron.
Note Witney and its dozen friends won't be getting the high speed and, on occasion astonishingly high speed, coverage we saw in our London test. That's reserved for the 20 "double speed" cities – Belfast, Birmingham, Bristol, Cardiff, Derby, Edinburgh, Glasgow, Leeds, Liverpool, London, Manchester, Newcastle, Nottingham, Sheffield, Southampton, Sunderland, Sutton Coldfield, Walsall, West Bromwich and Wolverhampton.
EE-using residents of the places covered by EE's 4G would be well-advised to upgrade as in our testing we saw evidence that the alliterative network is strongly favouring 4G over 3G. You can learn more about that here. ®
Sponsored: Learn how to transform your data into a strategic asset for your business by using the cloud to accelerate innovation with NetApp