Next moneybags kingpins of tech: Fondleslab game devs
Tablet games market to swell to $13 beeelllion - analyst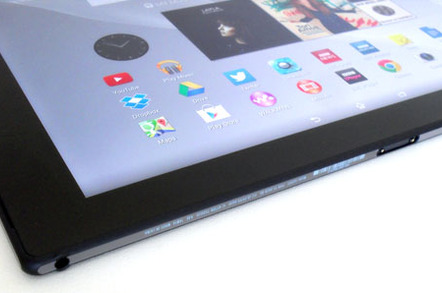 The fondleslab games market is set to grow to a comparatively mammoth $13.3bn by the end of the decade, new research from Juniper has predicted.
This represents a threefold rise from its current value of $3.6bn. According to a research paper issued by the bods at Juniper, the growth will be driven by ever-increasing storage capacity on tablet devices as well as better graphical capabilities on the machines.
Customers' "preference for convenience and ubiquity" will also prevail, as slab fondlers retreat to sofas, bedrooms and toilets to play their favourite mobile games.
Juniper said there will be "strong growth in monetisation of smartphone games across emerging markets", with mobile payments allowing people in far-flung villages to snap up the latest Flappy Birds-style fad game.
Micro-apps within these games will also allow designers to make cash after they persuade the player to download their app, as will in-game advertising.
"Advertisements are becoming increasingly key in revenue generation, as only about six per cent of mobile games will be paid for at point of download in 2019," Juniper predicted.
Small developers have most reason to be excited about the growing market, although they had better move quickly to have a chance of surfing the wave.
"The next year could be critical for smaller, independent games developers," Juniper continued. "In marketplaces now containing over 1m apps, greater funding would be required to optimise the opportunity to achieve consumer awareness, and suggested that crowdfunding would represent an increasingly popular option."
The report is called Mobile & Handheld Games: Discover, Monetise, Advertise 2014–2019. It follows a similar report which warned that the computer games industry is set to see its revenues slip from $46.5bn this year to $41bn by 2019.
Presumably, some of this slide could be due to a move towards the tablet, which allows smaller developers to prosper at the expense of companies used to working within the walled garden of dedicated hardware. ®
Sponsored: Minds Mastering Machines - Call for papers now open