WIN: Your passport to PuppetConf 2014
6 free tickets, 35% off discount code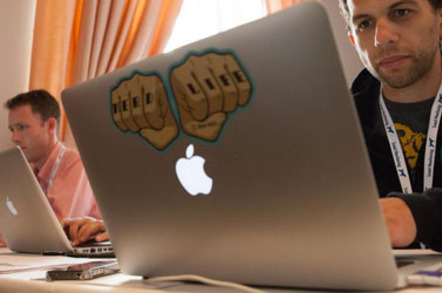 Reg Offer Just over a month to go until PuppetConf 2014, the fourth annual user conference run by Puppet Labs. Wanna come along?
The Register is a media partner for this great community event, held at the San Francisco Marriott Marquis on September 20 to 25, and we have six free passes at our disposal. Also, Puppet Labs is offering Reg reader 35 per cent discount on all ticket types.
Go here to claim your ticket with a Reg discount and to be in with a chance of winning one free pass, and then please enter sign up to our prize draw here. We will close the draw on August 27 and contact our six winners shortly after.
The conference includes training classes and Puppet Certification, keynotes and sessions delivered by marquee customers and some big technology guns, including speakers from Google, HP, IBM and VMware. Puppet Labs anticipates some 2,200 customers, users, partners and friends will be at the "IT Automation Event of the Year". Count us in.
You can check out the full schedule here.