BAT-GOBBLING urban SPIDER QUEENS swell to ENORMOUS SIZE
But they'd lose a deathmatch against the coming Humvee-sized, armoured Arctic ones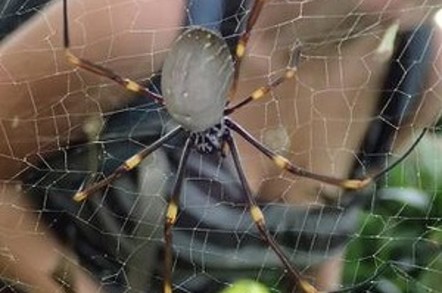 If you're a city-dweller who thinks spiders have gotten bigger over your lifetime, you might just be right, according to boffins from Sydney University.
Looking at the harmless but impressive Oz arachnid Nephila plumipes – the Golden Orb-Weaver – they've found that urban specimens are fatter than their country cousins.
The research, led by Sydney University biological sciences PhD candidate Elizabeth Lowe, found that female orb-weavers living in the concrete canyons were both larger – nearly twice as big in the extreme cases – and had bigger ovaries than relatives in the bush.
The reason Lowe focussed on the females is that Nephila plumipes have a huge variation between male and female. The female shown in the photo below is the web-maker, and they can grow up to 4cm (body length), while the male is a vanishingly-small 5mm.
Several males will often hang at the fringes of one female's web in the hope of the traditional spider's successful hookup: copulation followed by consumption.
The difference between city and bush specimens was quite startling, as Lowe's photo below of the smallest and largest specimens in her study shows.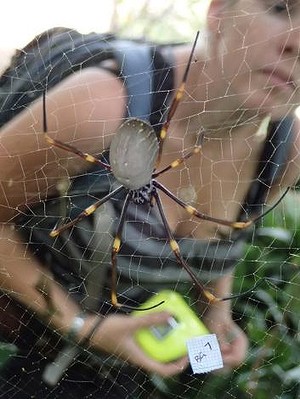 Researcher Elizabeth Lowe
examines a Golden Orb-Weaver
Image: Elizabeth Lowe,
from The Conversation
Lowe reckons a couple of factors might be at play here: the lights of the city probably attract prey into the webs, and that along with the urban heat island means the spiders can put more of their energy into growth and reproduction rather than to staying warm and catching food.
As Lowe writes in this piece (co-authored by associate professor Dieter Hochuli) at The Conversation: "Spiders help stop insect populations getting out of control, and are also a sign that nature in cities is more resilient than we might think".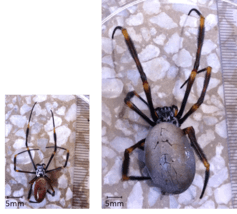 A bush specimen and a city specimen
Image: Liz Lowe. From The Conversation
OK, it's not a threat to humans, but the Australian Museum says its webs have been known to trap birds or bats that the meat-eating spider will include in its diet.
The museum also has this impressive image of what happens when lots of the orb-weavers get together to weave their webs. ®
Web note
El Reg directs your attention to our coverage of the upcoming plague of enormous, Humvee-sized, BULLETPROOF meat-eating spiders that will be prowling the Arctic circle come 2060 like vast arachnid panzers, at least according to Danish boffins.
Sponsored: Minds Mastering Machines - Call for papers now open