Football legend Gary Lineker in TWITTER POO TROLL SCANDAL
Footballer targeted by puerile jokers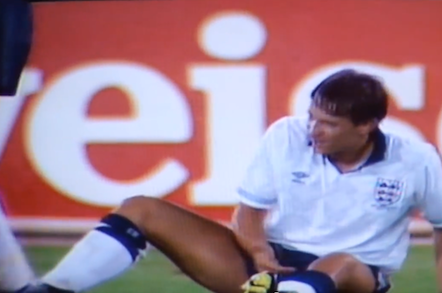 Gary Lineker is a celebrated footballer, telly host and crisp salesman. But it turns out that on the internet, what he's really remembered for is taking a big poo on the pitch during the 1990 Italia World Cup.
But now the face of Walker's Crisps has had enough of internet trolls and has issued a broadside against the social media misanthropes who just won't let him forget his fateful faeces.
Speaking to the BBC, a news organisation which prides itself on always being first with news about the BBC, the Match of The Day host said: "Just on Twitter over the last few weeks whenever I tweet the reply is... Well, I won't say as it's a not pleasant expletive, but you can get the gist.
"It was relatively funny at the start, but it's now boring everybody with any degree of sense in their heads whatsoever, people are getting tired of it. It's just kids being silly."
A clue to the sort of sophisticated abuse received by the ball booter might be provided by the following tweet, written in response to a missive about some football game or other.
@GaryLineker @FinallyMario you shat on box office

— AdeleAdjchkawla (@AdeleAdjchkawla) August 21, 2014
Beneath another Lineker tweet about his wife joining Twitter is the following witticism:
Still thinking of a first tweet... pic.twitter.com/NUrktIsD0y

— Danielle Bux (@DanielleBux) August 19, 2014

@GaryLineker @DanielleBux statue shat on ya wife

— U$¥ (@Uzzinho) August 19, 2014
For the sake of illustration, here's the picture the troll is referring to:
Still thinking of a first tweet... pic.twitter.com/NUrktIsD0y

— Danielle Bux (@DanielleBux) August 19, 2014
"It's become a bit relentless but I'm now blocking everyone that does it," the loose-boweled presenter wailed. "I think it's gradually diminishing.
"It's quite time consuming blocking everyone, it's not a very quick process but I have done a lot."
So what happened on that auspicious day, when our Gary decided to punish the porcelain in public?
"I wasn't very well basically and I made a tackle which was unusual for me... the bowels relaxed and I was ill," he explained.
"If you Google me I think that's the thing that comes up first, 'Lineker pooed on the pitch' or whatever it is."
We'd just like to take this opportunity to remind our readers that as well as possessing the toilet habits of an undomesticated bull terrier, Lineker has also written one of the best tweets of all time.
Beautiful summer's day and a huge semi! Doesn't get much better. #wimbledon

— Gary Lineker (@GaryLineker) July 5, 2013
You can't poo poo him for that. ®
Poonote
Vulture Central's backroom gremlins nearly crapped themselves laughing at this annotated video of THAT moment in England v Ireland at the 1990 World Cup. SFW (and safe for watching over lunch), it's the captions which make this video.
Youtube Video of Gary Lineker pooing himself on the pitch and then doing a passable impression of a dog with worms by dragging himself along the ground, backside first.
Sponsored: Minds Mastering Machines - Call for papers now open