HP Storage results: Gloomy, but there's light at the end of the tunnel
Sort it out HP, you're on a good thing here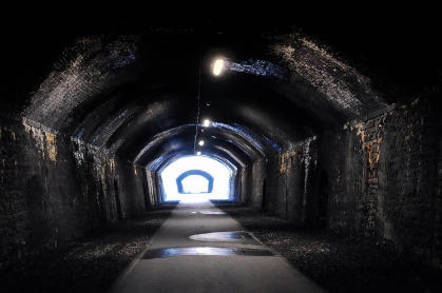 Comment HP storage emulated HP's latest overall quarterly results, with both good news and bad news, but the gloom overwhelmed the gleam.
Within HP's $27.6bn third fiscal 2014 quarterly revenue report, storage contributed $796m (just 3.6 per cent) of HP's earnings for the quarter and 11.5 per cent of the Enterprise Group's revenue. EG comprises servers, networking and so forth.
Storage was down four per cent on the year-ago quarter and 1.5 per cent on the second quarter of financial year 2014. This continues the generally steady decline in storage revenues since fiscal 2012, as the chart below makes all too clear.
There was one great egg in HP's storage nest alongside a collection of no-growth or low-growth duds: 3PAR.
In the earnings call, HP CFO Cathie Lesjak said: "Total storage performance was a bit disappointing, with revenue of $796m ... driven by a 14 per cent decline in traditional storage. However, converged storage sales grew nine per cent this quarter, led by double digit growth in 3PAR as customers continue to adopt alternatives to traditional high end enterprise storage arrays. While 3PAR plus XP plus EVA revenue declined seven per cent year-over-year, we expect another quarter of share gain in the external disk market overall in calendar Q2 '14."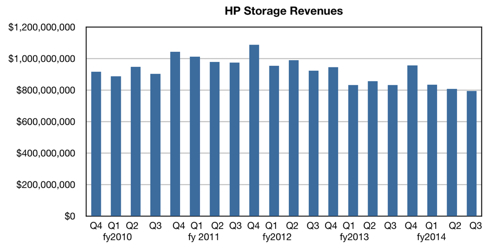 Chairman and CEO Meg Whitman commented: "In the Enterprise Group, revenue grew two per cent on strength in industry standard servers and networking, offset by declines in business critical systems, Technology Services and storage."
Gloomy stuff, but she remains hopeful:
"3PAR returned to double digit growth, and we continue to gain share in the mid-range. As the market shift increasingly from high end to mid-range, it is pressuring overall market growth but I believe this plays into a sweet spot for HP, which bodes well for us in the long term."
The Storage Vulture's take...
The Storage Vulture's view is that 3PAR is the jewel in HP's storage crown but the company needs more. It would do well to have a stronger virtual SAN offering and a stronger converged server/storage system offering. The all-flash 3PAR answers the all-flash array threat but hybrid flash/disk 3PAR sales don't seem to be denting the growth of startups Nutanix and Simplivity. Neither does the object storage product, StoreAll, appear to be denting prospects for CleverSafe, Scality and the other object startups.
StoreOnce is looking to be an increasingly strong purpose-built backup appliance offering, and the golden glow of Gartner endorsement should drive sales higher.
None of these are yet seen as market-leading, though. HP can wait for double-digit-growing 3PAR revenues to overtake declining EVA ones, which will take several quarters or more, and then try to speed things up by boosting the non-3PAR converged storage offerings.
Amongst these offerings is a more long-term one, the Machine, about which CEO Meg Whitman said: "The Machine has become a rallying cry across HP and frankly around the industry for the reinvention of how we compute."
She added: "Martin Fink has focused the HP lab researchers on memristors, photonics and a new operating system at the heart of this once in a generation project ... Over the next several months, you can expect to see the introduction of game changing products in personal systems, servers, cloud and printing, that are going to bring some real excitement to these markets."
But the Machine is a year or more away and Memristors have had a troubled and delayed journey to becoming a viable product. Ir's no done deal and for storage revenue growth HP has to play the cards it holds in its hand now.
Effectively, as a replacement shared storage array, 3PAR is the target, alongside other mainstream shared storage arrays, for myriad startups. Sitting on your laurels in this storage business is a recipe for getting spikes up your backside. Grow your jewels, HP, grow your jewels. ®
Sponsored: Minds Mastering Machines - Call for papers now open