Just in case? Unverified 'supersize me' iPhone 6 pics in sneak leak peek
Is bigger necessarily better for the fruity firm's flagship phone?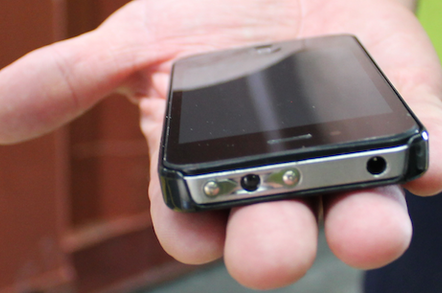 New pictures have surfaced that purport to show the casing for a new super-sized iPhone 6.
The phab-ulous images popped up on a site called Evasi0n Jailbreak. After the site talked up the images on Twitter for several hours, Apple-sniffers were rewarded with what the site claims are genuine pics.
Although a larger 5.5-inch iPhone has not been officially announced, Apple watchers have been debating its existence for some time. Bloomberg has previously claimed the iPhone 6 would come in two sizes, sparking a flurry of rumour and counter-rumour.
So are the latest pics genuine? There's no way to tell for sure, particularly due to Cupertino's insistence on a policy of tight-lipped omertà which makes the mafia look like waggle-tongued blabbermouths.
The site in question said it sourced the shell from "deep within Apple's supply chain in China". Its images show the usual iPhone backside, with a camera flash and space for a glowing Apple logo. Apparently, the screw holes in the casing match up with an earlier leaked image of a super-sized circuit board, the sight of which sent Apple size-queens into a tizzy.
We contacted Apple to confirm the pictures but have yet to receive a reply. Sadly, until the hallowed moment when Tim Cook finally decides to flash his extra inches, we simply have no guarantee of whether an Apple phablet is in the offing.
In other iPhone 6 related gumble, Walmart has knocked the price of the fruity-flavoured iPhone 5C down to just 97 cents.
This indicates one of two things: either a new phone is on the way, or no one wants to walk around talking to a plastic phone which comes in the range of colours you would expect to see inside a packet of Opal Fruits.
And yes, we know they are called Starburst now, which doesn't really matter, because the sweets are essentially the same as they have always been. Dare we say the same about the iPhone? ®
Sponsored: Minds Mastering Machines - Call for papers now open