'Leccy racer whacks petrols in Oz race
ELMOFO rakes in two wins in sanctioned race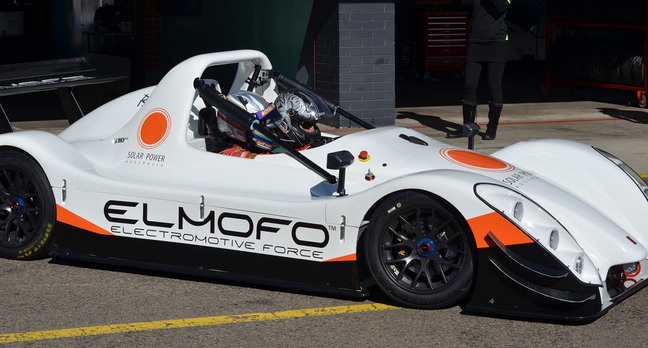 An Australian EV bearing the name ELMOFO has beaten petrol-powered competitors in an officially-sanctioned race – twice.
Ahead of the FIA Formula E race in China in September, a battery-powered car managed three feats at a meet for the NSW SuperSports State Championship: it won two out of three heats against petrol-powered vehicles, and it set the fastest lap of the day, beating out not only its own rivals but also participants in Formula 3 and Sport Sedan classes.
The meet was held at the Wakefield Park raceway near the NSW country city of Goulburn, and the 'leccy Radical SR8 was driven by Garth Walden (son of Brian Walden, for Australian motor-sport fans).
The NSW SuperSports is a single-marque race using the Radical Sports frame. The Walden entry was built by Newcastle, Australia company Solar Power Australia.
Its 37 kWh lithium-ion battery pack feeds BLDC motors that deliver 280 kW and 570 Nm of torque. The car claims a top speed of 265 km/h, and can go from a standing start to 160 km/h in 6.5 seconds – fast enough to let it get ahead of the V8-powered Radicals that formed the rest of the field.
As this report notes, the ELMOFO has been a frequent occupant of the front row of the grid in the Radical-class races, with the team working on debugging and reliability to get their first wins of the season.
If you have ten minutes to spare, in the video below from an meet in Sydney, the ELMOFO got close to a class win in May before it lost power on the final lap. Watch for its take-off speed at the start of the video, and the arm-crossing action out of slow corners, when the combination of high torque and cold tires makes for terrifying oversteer. The two runaways it doesn't catch are in the Stohr class rather than the Radical class.®
Sponsored: Are DLP and DTP still an issue?