EMC customer? You can only buy from third-party sales bods now
Firm plans to pull direct reps' sales tool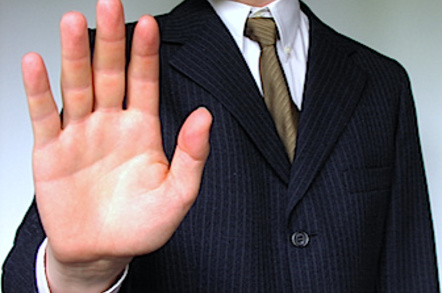 EMC says it will remove the tools that allowed its direct sales reps to quote kit prices to customers this quarter.
The process is running slightly behind schedule due to some teething issues, but should be in place soon, it said.
The internal reps used the Direct Express (DXP) to fire off quotes to customers while partners used the similarly imaginatively entitled Channel Express (CXP) system.
Phillipe Fosse, EMEA veep of channels, told us that by removing the tool it will remove any sales conflict between its direct reps and its legion of third party sellers, "if they don't have a tool, they can't quote".
The firm has created a hard deck of 100 UK customers with a global presence that it trades with directly, but all the rest have been passed over to channel types, mainly SCC, Computacenter and Kelway.
EMC has cuddled up to resellers and integrators in recent years - following Dell's decision to rip up its OEM deal under which it rebadged storage gear - and has worked to build trust with channel types that viewed it with suspicion.
The removal of DXP was due to happen in the first half of the year but "not all systems were aligned", said Fosse due the myriad acquisitions made and portfolio differences with CXP.
The veep told us there was some "kick-back" from the direct sales guys, including concerns about the time it may take a channel company to quote a customer.
"As usual when you make a change like that, they first see the problems before they see the opportunity," he said, adding sales force reps will have some more time to work on business development.
The DXP dump is being done in a "staged approach" across Europe and should be fully implemented across the region by the end of this year, to let it explain the changes to and train the district area managers.
The channel represented 59 per cent of EMC's sales in Europe in 2012, 64 per cent in 2013 and Fosse said it has bounced again in Q1 and Q2. Cobbled together with the Alliances business - service providers including Rackspace and integrators such as Capgemini - the indirect business is 80 per cent.
Not everyone is happy in EMC land though - the forthcoming partner programme revamp is causing some mid-sized resellers to question their relationship with the vendor.
EMC told us recently the new Business Partner Programme changes – introducing revenue threshold to a tiered system – was designed to sort the wheat from the chaff. ®
Sponsored: Minds Mastering Machines - Call for papers now open