Intel teams up with rap chap 50 Cent on heartbeat headphones
Get rich or die trying? Looks like the former rather than the latter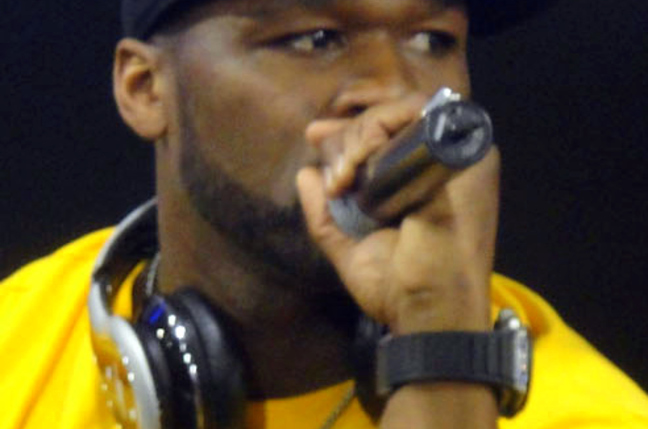 The rapper 50 Cent has hooked up with Intel to get his headphone firm making kit for the health-tech wearables set.
The pair plan to produce a set of cans which monitor vital stats at the same time as bombarding fit folks' ear drums.
Following in the footsteps of the music producer turned Apple employee who self-identifies as "the mutha-fucking D. R. E.", Mr Cent (real name Curtis James Jackson III) first released a pair of headphones back in 2012 via his SMS Audio firm.
His latest offering has upped the ante somewhat, offering fitness freaks the chance to monitor their fitness, presuming they want to listen to music as they excercise.
According to a rather florid press release advertising the snappily titled SMS Audio BioSport In-Ear Headphones, the devices are designed to "optimize workouts for ultra-marathoners, aspirational exercisers and everyone inbetween".
The headphones are the result of a link-up with Intel.
"Intel is focused on driving innovation in the wearable technology segment by partnering with lifestyle brands like SMS Audio that complement our technology and design expertise," said Michael Bell, corporate vice president and general manager of the New Devices Group at Intel.
"With SMS Audio, we will bring smart headphones to market that eliminate the inconvenience of add-on devices with an integrated, one-device fitness accessory offering high-end style and premier sound quality for an exceptional fitness experience. This is a prime example of Intel driving innovation in wearable devices while being a forerunner in merging lifestyle and technology."
The main attraction of the in-ear headphones is an optical sensor which measures a victim's heartbeat as they exercise. Rather obviously, the headphones also offer "tuned-in Fitness", which means they allow you to play music. They can sync with the jogging app Runkeeper, are waterproof and do not require any power.
Mr Cent, lest ye forget, achieved fame after being shot nine times. He then came to the attention of fellow rapper Eminem, who helped him to land a record deal resulting in the release of a wildly successful album called Get Rich Or Die Tryin'.
Sadly, Mr Cent was then shot a further nine times, prompting his friend DJ Whoo Kid to say: "Man, 50 is just too hood for his own good."
We know his personal wealth shot up to almost half a billion dollars after he helped develop a vitamin-enhanced beverage Glaceau, which was then sold to Coca Cola. So what sort of man is the rapper, known as "Fiddy" to his friends? We had a look at his Twitter account to find out and selected a few of his most popular micro-missives:
Obamas ratings are down cause he didn't include pimpin and hoein in stimulus package. Good hoes would boost male moral and fix the recession

— 50cent (@50cent) August 28, 2010
If your a rapper and you sold 5,000 cdsYa fat and turn 44 years old you might want Get prostate checked and your colon cleanseMy advice

— 50cent (@50cent) August 26, 2010
Oh shit this bitch almost hit my carTwitter almost killed meYou can't tweet and drive at the same timeIll fuck wit yall later

— 50cent (@50cent) August 26, 2010
I can't belive my grand mothers making me take Out the garbage I'm rich fuck this I'm going home I don't need this shit

— 50cent (@50cent) August 26, 2010
You can thank us later. As 50 Cent once rapped: "It's your birthday." ®
Sponsored: RAID: End of an era?