A-level results: Before you smile at that jump-for-joy snap...
Uni-ditching teens are COMING FOR YOUR JOBS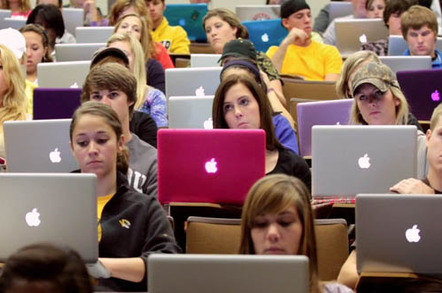 Traditionally, newspapers illustrate A-Level results day with pictures of attractive teens in mid-air.
But soon it could be lank-haired, bespectacled nerds that are performing the vault of victory following news that students are flocking to tech-focused courses.
Today is the day where pretty young things and their uglier, off-camera chums receive the results which will condemn them to a life of dizzying success or abject failure.
We're used to hearing about the many successful people who didn't complete a university degree, like Richard Branson, Steve Jobs or The Queen (although she may have had a few advantages which are not generally available to your average 18-year-old layabout).
Yet ditching university is becoming increasingly popular in the tech world, with the number of school-leavers taking on IT apprenticeships with the training firm QA more than doubling this year.
Stats from the education company show that applications for IT apprenticeships have doubled, reaching an "all time high".
According to the firm's numbers, IT apprentices supposedly have a higher employment rate than clever clogs posh folk who've won first-class degrees from Oxford.
Josh Uwadiae, a 20-year-old IT manager, commented: "At 18 I decided to do an IT apprenticeship with QA and within the short space of two years I have seen fantastic returns. IT apprenticeships are more than just a course or job, they're a career kick-start with limitless opportunity and potential. A young person should be just as excited to do a top apprenticeship as being accepted by Oxford or Cambridge university."
Are the numerous 'coding' campaigns... working?
Another survey from the "online social learning platform" FutureLearn has also revealed that "coding and software development tops students' career aspirations".
Some 23 per cent of young hopefuls using its services want to get involved in this most unglamorous of professions, whilst the medical profession is the second most popular industry, with 22 per cent wanting to play doctors and nurses for the rest of their lives.
Anyone intent on doing more useful courses than the perennial film, media and lying-in qualifications doled out when the economy was a bit better should feel happy about their decision.
A recent survey from the Prince's Trust found that 73 per cent of British businesses fear a "skills crisis" will batter Britain within the next three years, meaning anyone with a useful talent should be able to clean up.
Tracy Ewen, managing director at the finance firm IGF, said: "As we rise up out of the downturn, businesses are now facing a new concern: finding skilled staff.
"On A-level results day, as the next generation of university students prepare to embark on the final stage of their education, employers and the government need to think about how they can be encouraged to develop the skills that the economy lacks."
So put down that Jägerbomb, kids, extinguish that exotic cigarette and kick that hottie out of bed. There's work to be done – and it's not going to be fun. See you in the retirement home, if you make it there. ®
Sponsored: Minds Mastering Machines - Call for papers now open