Flash could be CHEAPER than SAS DISK? Come off it, NetApp
Stats analysis reckons we'll hit that point in just three years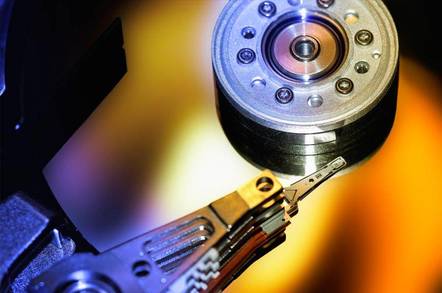 A NetApp pitch at the Flash Memory Summit said the cost-per-GB price trends for cheap TLC flash mean it will dip below SAS disks in 2017.
TLC is triple-level cell flash which holds three bits per cell, half as much again as the standard 2-bit or MLC NAND that is used in SSDs and server flash cards.
Because TLC is denser in capacity terms than MLC its cost/GB is less – around 25 per cent less – and the NetApp number-crunchers say its price is declining faster than the cost/GB of SAS interface disk drives.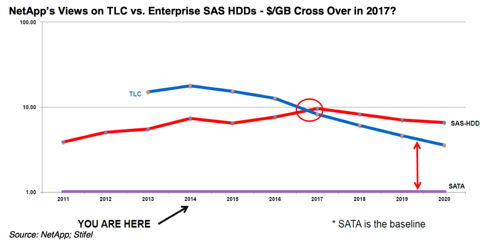 Click chart for larger version
The chart relates enterprise SAS disk and TLC NAND cost/GB to that of SATA disks, with the SATA disk cost normalised to a constant 1.0.
TLC has a shorter working life than MLC flash so it will be used for read-intensive work instead of write-intensive applications. The NetAppers see the TLC flash line trending down towards the cost/GB of SATA disks but the chart stops at 2020 and the extrapolated trend would show TLC NAND costing the same as SATA disks after 2070.
According to Gartner, some 63 exabytes of NAND will be made in 2014, with 7.6EB used for enterprise servers and storage. The disk drive suppliers shipped 99.7EB of capacity in the 12 months to the end of June (trailing 12-month basis), 13 times as much.
Unless the flash foundry industry doubles or even triples manufacturing capacity, flash will not be a wholesale replacement for disk any time soon, however attractive the cost comparisons are; the fabs simply won't be able to churn out enough flash.
Of course, if supply lags demand, then profits will be good and the industry will avoid the fearsomely disastrous profit-destroying gluts that have occurred in the past. Eventually though, someone will put down the billion or more dollars needed for a new fab and prices will then drop more steeply.
Thanks to Stifel Nicolaus MD Aaron Rakers for this information. ®
Sponsored: Minds Mastering Machines - Call for papers now open