Storage array supplier Dot Hill: Revenues are down, but so are losses
Shrinking Dot shrinks a little less...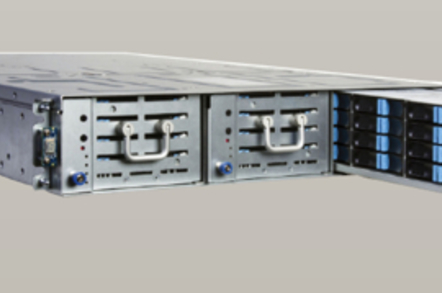 Storage array supplier to OEMs has less to be dismal about with declining revenues but much less of a loss in its second quarter. The business isn't growing, but at least it is not shrinking.
Revenues for the second calendar 2014 quarter were $48.2m, the same as the previous quarter but 8.4 per cent down on the year-ago quarter. There was a net loss of -$80,000, better than the prior quarter's -$400,000 loss but worse than the year-ago quarter's profit of $2,100,000.
The six-month revenue total is $96.4m; a year ago it was $95.2m, making a small sign of good cheer but, back then, there was a $1.1m profit whereas this time there is a -$480,000 loss. It's such a finely balanced business.
Dana Kammersgard, president and CEO, was optimistic: "We expect that 2014 will be more back-end-loaded than previous years. We remain very confident in the ramp of this revenue and the sustainability of this growth into 2015 and beyond, as we project at least three and potentially four major customer product launches scheduled between now and the end of the year."
So its OEMs are going to launch three and maybe four new arrays in the next six months. That possibly means new HP MSA arrays, and/or arrays from Acer Europe SA, CGG, Lenovo, Quantum, Supermicro and Teradata, all Dot Hill OEMs. The company has broadened its OEM roster in recent quarters so as to be less reliant on a few large customers.
We also understand Dot Hill is doing things with Seagate's Kinetic drives.

Dot Hill AssuredSAN Ultra 48
Dot Hill is well funded: there are cash and cash equivalents of $42.2m with no borrowings – so no danger of cash running out.
It expects next quarter's revenues to be between $50m and $58m, quite a range, and for the year as whole, according to CFO Hanif Jamal: "We currently believe that our results will fall around the low end of our guidance range, based on lower than expected Server OEM revenue in the first half. The precise timing of our new customer product launches, which is very hard to call, will impact revenues as well."
Still, he thinks, the good times will return: "We remain resolute in our conviction that we are getting very close to a transformative revenue ramp, and with the operating leverage in our business model, an even stronger earnings inflection point."
If all the new arrays come from Dot Hill's OEMs, then perhaps the company could turn around. Let's hope so. ®
Sponsored: Minds Mastering Machines - Call for papers now open