Gov.uk's broadband boast: Superfast fibre piped to 1 million Brits
Apple-scrumping bumpkin bits deliver best returns, apparently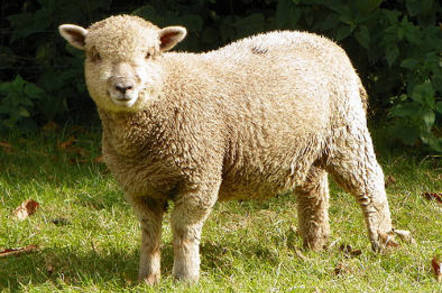 More than one million British people now have access to high speed broadband as Westminster's plan to deliver access to "superfast" speeds to 95 per cent of the UK by 2017 gathers pace.
Some 40,000 people are being handed the keys to a speedier internet every single week, the government has announced.
Some £1.7bn will be spent on the rollout, which is expected to be completed by 2017. The government has estimated that bumpkin broadband will deliver the best returns: £20 for every £1 invested in dragging the mild wilds of Blighty into the modern age.
Culture Secretary Sajid Javid – an apparent Trekkie who has said he'd had almost no exposure to the arts before his appointment – remarked: "More than a million homes and businesses have now benefited as a result of government's investment in superfast broadband.
"It is totally transforming the way we live and work. You can download feature length films faster, chatting online with family and friends around the world using VOIP is more reliable and households can go online simultaneously without the connection slowing down or dropping out."
He also claimed broadband allowed businesses to access markets abroad "for the first time". It seems churlish to point out that ships, wooden carts and even the human foot enabled this some time ago. Superfast speeds are also "boosting profits through" increased sales, the culture secretary added.
Gavin Patterson, CEO of BT – whose Openreach men and women have to deploy the cabling – said getting the high-speed fibre connections out to rural yokels was a difficult business, but sees it as a vital way of dragging the countryside out of its benighted stupor.
"Getting fibre to rural areas is hard, and often complex, work but we are making great progress," he said. "Our engineers are busy, from Hampshire to the Highlands, connecting homes and businesses whatever the challenge. We are laying undersea cables to the Outer Hebrides, reaching remote villages in Wales and transforming rural areas across England."
BT has controversially won bid after bid for the two-year-late, £1.2bn taxpayer-funded deployment of faster broadband access.
Environment Secretary Elizabeth Truss claimed speedy broadband will "bridge the gap between urban and rural areas" and allow businesses in the provinces to thrive.
It's not as if farms, teashops and seldom visited bric-à-brac dens are the only businesses in the countryside, right? There must be a few that require a 2Mbps connection. Add your two cents below, folks. Keep calm and keep on connecting. ®
Sponsored: Minds Mastering Machines - Call for papers now open