Clock ticking for Surface 3 as Microsoft preps for globo-launch
Losses hit $1.7bn since launch, sales a drop in tablet ocean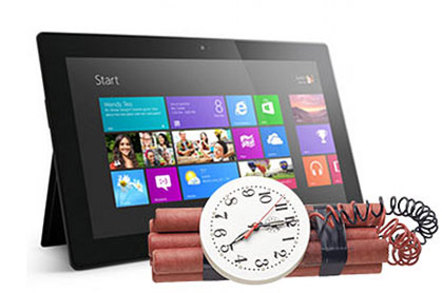 Given the losses Microsoft has racked up with the Surface "design point", the firm could be forgiven for drawing a line under the project rather than sending the third generation product to Britain.
In a blog post, Microsoft this week confirmed the Pro 3 model will hit the streets in 25 countries including the UK on 28 August - to date it was available only in the US, Canada and Japan.
"This month is going to be our best yet," said optimistic company blogger Brian Hall in reference to the wider launch.
The slab houses fourth generation Intel Core i3, i5 and i7 models and comes with a 12" screen, but - importantly - pricing has yet to be confirmed. A docking station is set to arrive in Blighty by the end of next month.
The device is available to purchase from Microsoft's online store, retailers and authorised devices resellers (ADR), the latter of which were brought on board almost a year ago to provide more feet on the street to plug the unloved slab.
Tim Coulling, senior analyst at Canalys, told us channel partners should not be expected to shoulder the blame for relatively poor adoption.
"Microsoft is learning," he said. "[Building] channel relationships for hardware is not its core business, it has had teething problems. As the [ADR] programme improves, I'm sure B2B sales will increase."
In calendar Q2, Microsoft shipped 880k Surface devices, up from 304k in the prior year period, with Windows RT accounting for 45 per cent of sales and the Pro the remainder, Canalys numbers reveal.
Surface sales remain a drop in the ocean of the total market, with 48.3 million units unloaded onto channels worldwide in the three months.
"It is still not great [for Microsoft]," said Coulling, though he acknowledges that Surface is a B2B machine and corporate enterprises have been typically slower adopters of tab technology.
Pricing for the Pro 3 will be critical, especially in a market where lower cost devices are proliferating, but the Canalys man also points out the integration of Microsoft's cloudy apps will be another feature development.
According to estimates from Jan Dawson, chief analyst at US-based Jackdaw Research, Surface has made gross losses of $1.7bn in the previous two fiscal years.
This is based on taking Surface sales of $853m in fiscal '13 and $2.192bn in the most recent financial year, then calculating the cost of those revenues and deducting them to arrive at a negative gross margin.
"The next quarter or two will be great indicators as to whether the Surface will ever be a viable product for Microsoft in the long run," Dawson told us.
The newest Surface will have to leap off the shelves into the arms of more consumer faster than previous versions to turn a profit and carve out a market for Windows slabs, he added.
"So far it's [Surface] not profitable or making the market, so something has to change for Microsoft to justify continued investment, especially since there's a strategic cost in terms of competing with Microsoft OEM partners," said Dawson. ®
Sponsored: Minds Mastering Machines - Call for papers now open