Stalwart hatchback gets a plug-in: Volkswagen e-Golf
Swap your spare wheel for a 'leccy motor
Quiet times
Other options include park assist, where the car will steer itself into a parking space, a review camera, automatic post collision braking – which keeps the brake on after the airbag goes off – cruise control, driver alert, pre-crash preventative occupant protection, high beam assist and lane assist.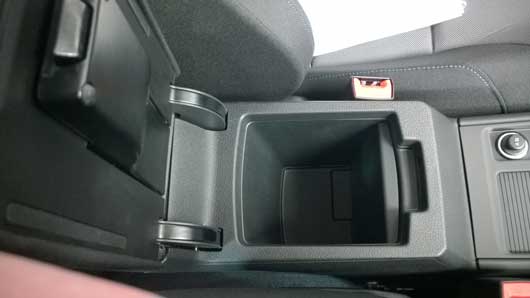 More than just a handy space
On the road it's surprisingly, perhaps disappointingly normal to drive. You can provoke a smidgeon of torque-steer and that lovely slab of low-down torque makes it feel a lot more accelerative than the 0-62mph time would have you believe. That power inspires confidence when overtaking traffic and diving into roundabouts. Handling is pleasantly neutral, without any hint of understeer.
The e-Golf is quite a bit bigger than the e-Up, so not quite the same class of nippy city car but much more rear-passenger friendly. It isn't the long distance cruiser either because it's all electric.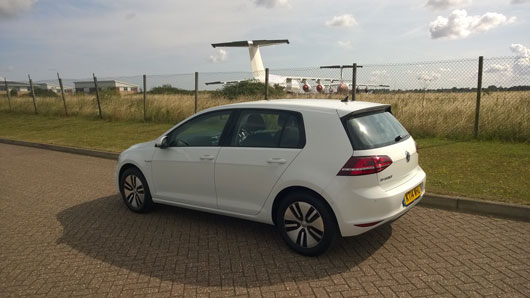 The new wheels are especially aerodynamic
Volkswagen gave me a 25 mile (40km) test route. When I started it said that I had a range of 113 miles (181km) – nearly the theoretical maximum of 118 miles (190km). I have to admit I made good progress on the route, which included the A5 dual carriageway and some undulating unrestricted country roads, but by the end of the route, it said I had 51 miles (82km) of range to go.
Let's do the maths: so I'd used 62 miles (100km) of range by doing 25 miles (40km), giving an effective range of less than 50 miles (80km). Bear in mind that you need to leave a margin for error too. So the e-Golf is not really a car you can take out unless you know you'll be able to make it there and back, or have a good idea of where you can plug it in along the way.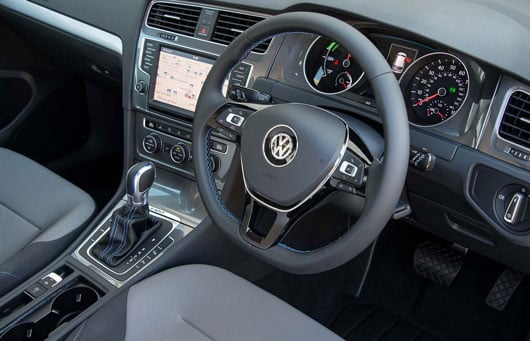 The steering has a good feel, flat bottom to the wheel is sporty
Still, it is quiet. I like the whine of electric motors, there is something a little jet engine about them and if you listen very carefully you can hear the motor above the wind and tyre noise but for the most part it's wonderfully silent.
Wind noise is reduced by the funky wheels and very specific measures, such as cutting the volume of cooling air (via a radiator shutter and partially closed-off radiator grille), new underbody panelling, rear body modifications with a rear spoiler and C-pillar air guides to give air drag of 0.615 m² and cD value of 0.281.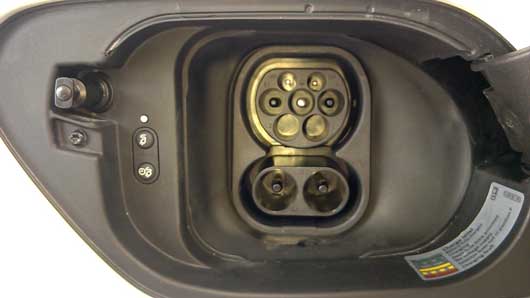 The extra two pins at the bottom are for rapid charge.
To charge the e-Golf there is the standard 13A wall socket, which will fully charge the car in 13 hours. Having a wall box fitted will reduce this to eight hours but for a rapid charge the high speed option is the DC CCS (combined charging system, which adds an extra two pins) and would – if there were any public points around – cut charging time to 30 minutes for an 80 per cent charge capacity.
There are lots of option and not very much choice when it comes to colour. The e-Golf can be ordered in two blacks, two greys, two whites, two blues and two silvers.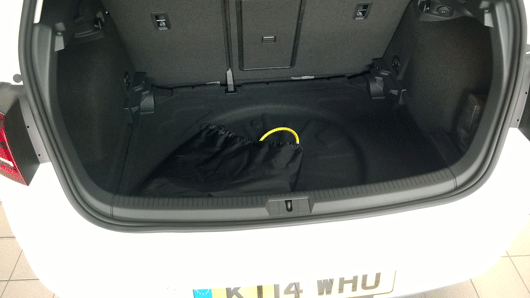 This is where the spare wheel would go
Electric cars are expensive and the e-Golf is no exception. At £30,264 it's a lot more expensive than the fantastic Golf GTI. There is a little help in the £5,000 the government will give you to encourage you to buy an electric car – interestingly an amount of money which is pretty much the same as the VAT on this car. At £25,845.00 on the road, it's still a case of really wanting an electric car over a petrol or diesel one.
The e-Golf would make a wonderful car for people who care more about music than motoring. The standard audio system is pretty good but unfortunately the premium system made by Dynaudio, the Danish high-end audio specialist, is not available on the e-Golf. This is because its system used a large sub-woofer which is housed in the space normally occupied by the spare wheel and with the e-Golf there is no spare wheel or corresponding space.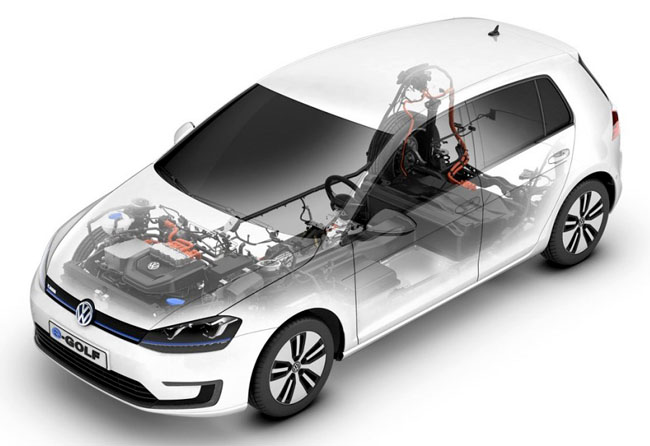 Volkswagen e-Golf: for those who really want an electric vehicle
The Reg Verdict
The Volkswagen e-Golf is a very well made solid car that doesn't compromise options, space or comfort for its green credentials, but it does compromise price and range, and those two things seem likely to make it a rare sight on the road. ®
Sponsored: Minds Mastering Machines - Call for papers now open

Stalwart hatchback gets a plug-in: Volkswagen e-Golf
Plug-in five door electric car with a theoretical range of 118miles and a top speed limited to 87mph
Price:
£25,845 (price includes £5k govt grant) RRP