Tiny transforming bots: Meet these self-assembling 'thoughtful' droids
Flat-packed bots build themselves, turn... walk away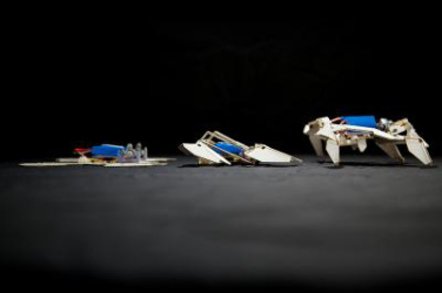 Rise of the Machines Engineers have come up with self-folding robots that can put themselves together and crawl away on their own – although batteries must be included.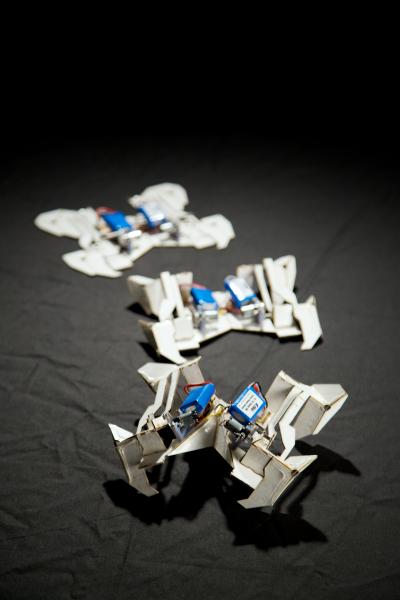 Three stages of the origami robots assembling. (Credit: Seth Kroll)
Foldable 'bots are nothing new, but this is the first time that scientists have come up with a robot that can fold itself into arbitrary shapes and then toddle off under its own steam without any external help.
The boffins were apparently inspired by the Japanese art of origami.
"The exciting thing here is that you create this device that has computation embedded in the flat, printed version," said Daniela Rus, prof of electrical engineering and computer science at MIT and co-designer. "And when these devices lift up from the ground into the third dimension, they do it in a thoughtful way."
In the experiment, the robots can self-assemble from flat sheets of paper and shape memory polymers – which change shape when heated above 100˚ Celsius – with embedded electronics. The flattened 'bot transforms itself into a functional machine in around four minutes and can then crawl away at a speed of around 5.4cm a second and turn, all without human interaction.
"Folding allows you to avoid the 'nuts and bolts' assembly approaches typically used for robots or other complex electromechanical devices and it allows you to integrate components (e.g., electronics, sensors, actuators) while flat," said Rob Wood, prof of engineering and applied sciences at Harvard, and a member of the robot team.
"Traditional manufacturing requires expensive machinery, and 3D printing is too slow for mass production, but planar composites can be rapidly built with inexpensive tools like laser cutters and etch tanks, and then folded into functional machines. Such manufacturing methods would be ideal for producing 100-1000 units," he added.
"These robots are inexpensive and [their] layered composites can be built faster than equivalent 3-D printed structures."
Five layers go into the robot's structure – a middle layer of copper, sandwiched between two structural layers of paper and surrounded by two outer layers of the polymer. After the laser-cut materials are layered, a microprocessor and one or more small motors are attached to the top surface. In the test, the researchers used two motors to control the legs, one each for two robot appendages.
To get the robots folding up, the team used hinges with embedded heating circuits that activate folding at the right temperature. The placement of the hinges and the order in which they get triggered decides what shape the robot will end up in.
"Cyclic folds are used by a software program called 'Origamizer' as building blocks to create any polyhedron," explained Felton. "We've discovered that we can [use this approach] to create a wide variety of structures and machines."
The robots have obvious potential as search-and-rescue machines, since they're small enough to navigate small tunnels or spaces and they fact that they can be shipped flat and then assembled on-site makes them even more useful. Larger versions could also be used as self-folding shelters for explorers to use on inhospitable terrain or even in space. ®
Sponsored: Minds Mastering Machines - Call for papers now open