OK Google: Gobble chat app Emu. OK Google, now shut down Emu
Let's say this acquisition moved me ... to a BIGGER house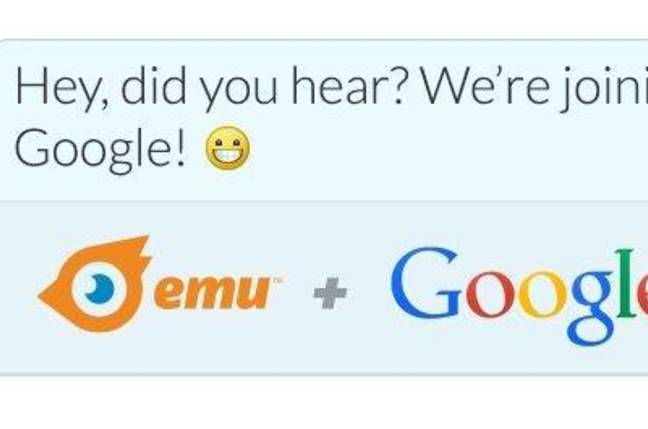 Google has confirmed that it has opened up its wallet to acquire the development team behind the mobile chat app Emu.
The web giant has not said what Emu's developers will work on at the Chocolate Factory, but we do know that the new jobs will not include maintaining any of the startup's products.
Members of the Emu team posted Wednesday that they had been gobbled by Google and will shut down later this month. When that happens, Emu's mobile app will also cease to be.
"As of August 25, 2014, we'll be shutting down the Emu iPhone app. It will no longer be available in the App Store, and existing users won't be able to send, receive, or download messages," the upstarts wrote.
"We know it's an inconvenience, and we regret that."
A Google spokesperson confirmed to The Reg that it had indeed struck a deal to acqui-hire Emu, but declined to go into any further detail.
Boasting former members of Google, Yahoo! and Apple's Siri project, Emu had pitched itself as a combination of a texting tool and a personal assistant. The app can share images, and use one's location and process language to look up and present information about one's surroundings, such as restaurant suggestions, maps and ticket ordering.
While nobody is saying just how Emu is going to be put to use at Google, it's not hard to see where the skills of the team would be of use to platforms such as Google Now and Hangouts. In the meantime, iPhone users should make the most of their last remaining days with the Emu app. ®
Sponsored: RAID: End of an era?