fist-bumping is good for your health, says respected surveyor
Wagwan, bruv, come bump the rock with me like Ali G, init
In the 21st Century it seems there are more ways to shake hands than there are Facebook gender categories (which number 56, if you're wondering). So what's an Englishman to do when faced with this breakdown of traditional decorum?
Boffins at Aberystwyth University have suggested you make like Ali G and master the art of the fist bump, which involves bumping your clenched fist against a chum's. It's healthier, apparently, and helps prevent the spread of mitt-borne bacteria like E coli.
Sadly though, new research from the survey bods at YouGov has revealed that British folk haven't taken to fist-bumping. Just two per cent of Blighty's residents employ this new-fangled form of greeting, compared to seven per cent of Americans.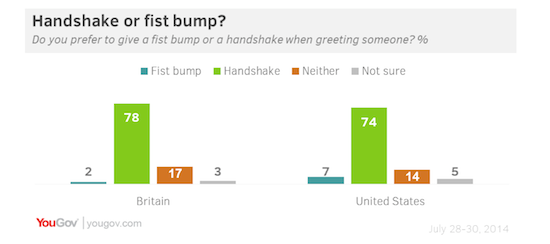 Younger people (the filthy swines) are more likely to fist than grown-ups, with just 65 per cent using traditional handshakes compared to 85 per cent of the over-60s.
The popularity of punch-based greetings was boosted when Barack and Michelle Obama publicly fisted each other.
YouGov explained: "The fist bump has become politicised in the United States, where President Barack Obama, a Democrat, has made the fist bump part of his personal brand. A TV anchor's characterization of the president's gesture as a 'terrorist fist jab' was famously satirised on the cover of New Yorker magazine."
Republicans are particularly opposed to fist-bumping, with just three per cent using it versus nine per cent of Democrats.
This correspondent's last use of the fistbump technique came when he told a coffee shop worker about his penchant for a genre of aggressive British electronic music called grime.
"That is sick," the worker said with his mitt held aloft suggestively. "You don't look like a grime man."
Your scribe then awkwardly, yet affectionately, fisted the poor chap in front of all his colleagues.
Wwilst the editor is looking the other way we'd like to draw your attention to its page dedicated to fist-bumping.
"A fist bump is also called dap, pound, fist pound, brofist, donsafe, spudding, fo' knucks, box, Bust, pound dogg, props, Bones, respect knuckles, bumping the rock, or knuckle crunching," its crowdsourced mob wrote.
"Ali G is regularly seen giving the greeting, which is popular amongst UK lovers of hip-hop culture, where it is also nicknamed 'nudging' and 'spudding'."
So now you know. ®