UTAS 13,000 Gflop NECTAR node live
National research cloud expands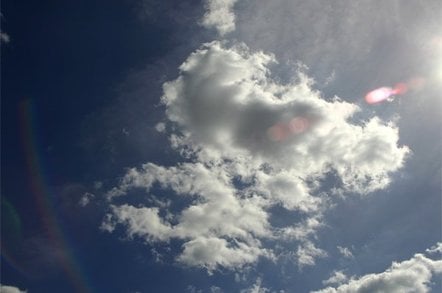 The University of Tasmania has flicked the switch on its new node of the national NECTAR research cloud, under an $8.75 million collaboration with the CSIRO and the Australian Antarctic Division.
Its node, which has been progressively rolled out since May 2014, has 21 Dell AMD Opteron-based C6145 machines with a total 2,668 processors delivering 13,000 Gflops connecting to NECTAR, and another 20 C6145s running CEPH for the UTAS user base.
There's 1.2 PB of storage, and the NECTAR node connects to the national infrastructure via the university's 10 Gbps AARNET link.
The UTAS node is worth around AUD$1 million of the total collaboration, the university states in its media release.
While NECTAR is designed to cloudify research data collections and compute capabilities on a national basis, UTAS professor Nathan Bindoff, who is also director of the Tasmanian Partnership for Advanced Computing, said there are compelling reasons to host a node in the island state.
For a start, there's the efficient use of resources: some analytical tasks simply work best if the research dataset is co-located with the iron that's going to run analysis on that data.
Where necessary, he said, "if you align the computation with the research collections, you can expedite the analysis".
For example, The UTAS node will host data under Australia's $AUD300 million Integrated Marine Observing System, which collects data from autonomous instruments, ships, sensor networks and similar instruments.
"They collect all these streams of data, and publish them through their portals on an open access basis to the Australian and international research community.
"Their portals will operate from our cloud hardware," professor Bindoff said.
That's in line with the national mission of NECTAR to deliver services to organisations whose data needs to be stored and made available in the long term. As well as scientific data, professor Bindoff said, it will include datasets for cultural research, the social sciences, and other disciplines.
Bindoff is also enthusiastic about the 20-machine CEPH setup that will serve UTAS local users. CEPH – a open-source distributed object and file storage system (here) – is being used as a private cloud, he explained, which will provide user-space storage for its clients.
"We've built this to make a virtualised single disk, instead of [users] going through the NAS," he told Vulture South.
"We deployed this at the same time as the NECTAR cloud. We were the first node in Australia to do that, and it's turned out to be a good decision.
"We like CEPH because it scales out nicely, and is completely additive," professor Bindoff said. "We have a greater capacity to match the performance requirements of the compute cloud with storage requirements, and we can tinker with it to match the underlying demands of the storage."
NECTAR, the National eResearch Collaborative Tools and Resources project, has nodes at Monash University, the University of Melbourne, West Australia's iVEC, eResearch SA, Queensland's QCIF, and the ANU's NCI.
The national cloud lets researchers spin up VMs to run as virtual laboratories for analysis and simulations on vast datasets. ®
Sponsored: Minds Mastering Machines - Call for papers now open