Leaked Windows Phone 8.1 Update specs tease details of Nokia's next mobes
New screen sizes, dual SIMs, voice over LTE, and more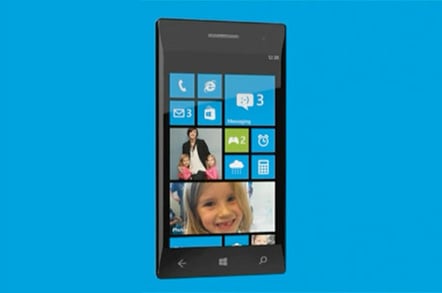 The website wranglers at Microsoft appear to have accidentally let slip some details about the forthcoming update to Windows Phone 8.1 – as well as some hints at what we can expect from future handsets running Redmond's mobile OS.
A page on the software giant's site – first spotted by the Windows Phone watchers at WPCentral on Sunday – but since removed, briefly listed information about Windows Phone 8.1 GDR1, including what new hardware specs will be supported.
As you should know by now if you've been following recent Windows Phone releases, "GDR" stands for "General Distribution Release," which is what Redmond calls its major post-launch feature updates. There were three GDR updates for Windows Phone 8 and this will be the first for Windows Phone 8.1, although it will probably be known simply as Windows Phone 8.1 Update 1 when it ships.
Last month, eagle-eyed WinPhone fans caught sight of a reference to "folders" in a future version of Windows Phone, and this latest leak seemed to confirm that the gee-whiz file-organizing tech will arrive in the next update.
Other than that detail, however, there were few signs of new user-facing features. Instead, most of the information in the new leak involved hardware support for handset makers.
Among the updates, support for new screen sizes and resolutions seems to be a top priority. Native 540-by-960 resolution will be supported on devices with screens with diagonals of up to six inches, while 1280-by-768 and even 1280-by-800 resolution modes will be supported for devices with six- and seven-inch screens.
Bluetooth support will be enhanced with support for the Personal Area Network (PAN) 1.0 profile, the aptX codec for the Advanced Audio Distribution (A2DP) profile, and browsing support for the Audio/Video Remote Control Profile (AVCRP).
Mixed GSM and CDMA radios will be supported for dual-SIM phones, and voice over LTE (VoLTE) will be available, as well. In addition, Windows Phone devices will be able to set their clocks via Network Time Protocol (NTP) when a cellular data network is not available.
A few cosmetic changes are coming, too. Some Live Tiles will be shuffled around on the Start screen and users can opt for a new, medium-sized Live Tile for the Windows Phone Store. Device makers will be able to ship custom lock screens, too, plus optionally preload Microsoft's new Files app.
The folks at WPCentral assure us that this list of updates is "only partial," so there may yet be other new features in store when the update actually ships.
The other thing we can't be sure of, though, is when that will happen. But signs point to "very soon" – rumor has it that Windows Phone 8.1 Update 2 is already on Redmond's road map and that it, too, will ship by the end of 2014. ®
Sponsored: Minds Mastering Machines - Call for papers now open