Russia sends SEX-CRAZED GECKOS to SPAAAAACE!
In space... no one can hear you're green...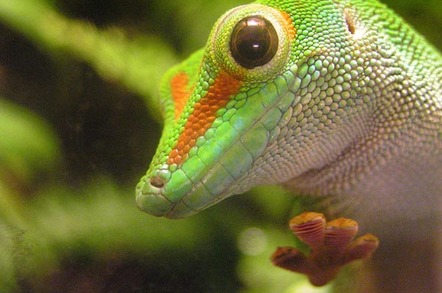 Russian boffins have lost control of a satellite containing sex-crazed geckos - like there's any other kind - sent on a mission to hold a zero gravity orgy.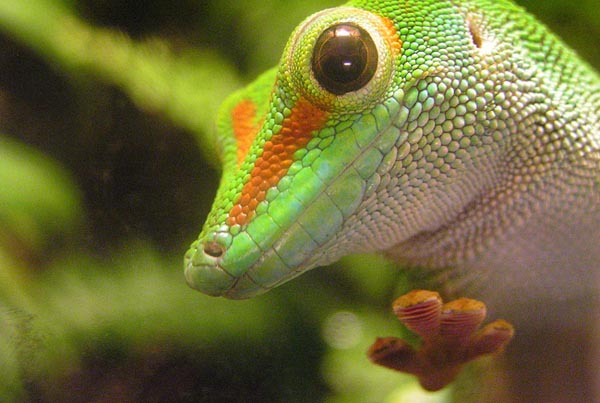 Not the gecko who went aboard the Foton-M4...This is one Phelsuma madagascariensis from Madagascar.
Pic by Frank Wouters, licensed under CC 2.0
One male gecko was blasted into space along with four females to get jiggy for a two-month experiment into weightless bonking.
But human fatties will have to wait a little longer to see if zero G can help ameliorate the shag-bane of their pendulous tummies, because the satellite is not responding to commands.
Russian space chiefs have lost full control of the Foton-M4, raising the prospect that Mr Gecko's libidinous adventure could end in disaster, and he is currently circling the planet at break-neck speeds.
The ship is not responding to a command which would lift it to a higher orbit. Prurient profs wanted the randy reptiles to join the 357 mile (574km) high club, but they are currently stuck at just 155 miles (250km) above the Earth.
"The equipment which is working in automatic mode, and in particular the experiment with the geckos is working according to the programme,' said Oleg Voloshin, from Russia's Institute of Medico-Biological Problems, the group which organised the sexperiment.
Although the Russian craft can operate perfectly well in automatic mode - and the geckos can get down to business whenever they want - its low altitude could cause the craft to plunge into the atmosphere and burn up.
Russian space staff are now frantically trying to regain full control, get the geckos to go at it and then bring them back to Earth safely.
If all goes well, a potentially exhausted gecko and his harem will return home in September.
You may be interested to listen to the sound of a mating gecko, which can be heard here. But, remember, up there in space, no one can hear you scream. ®
Sponsored: Minds Mastering Machines - Call for papers now open