Termination charges drop smacks Vodafone and EE in the WALLET
Europe hits saturation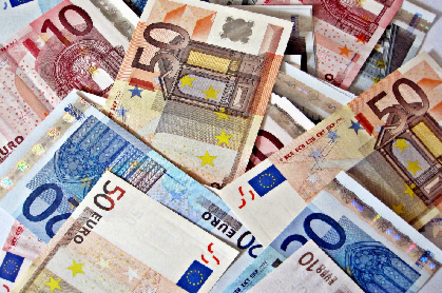 The reduction in how much mobile networks receive for handling incoming calls has hit both Vodafone and EE so hard that they have both separated out the charges in interim financial reports.
Brit multinational Vodafone announced a global drop in its revenue of 4.2 per cent for the quarter while UK mobile firm EE's financials saw a smaller drop of 0.7 per cent for the same time period.
The drop in Mobile Termination Rate (MTR) was not sole reason for the figures slide: increased competition played a big part. The Spanish and South African markets were particularly tough for global player Vodafone.
EE, meanwhile, as a UK conglomeration of Orange and T-Mobile, does not have to contend with some of the international pressures Voda faces – particularly the savage French market of Orange parent France Télécom. EE says that its revenue drop was a sign of a long term strategy to make customers more committed, offering bigger bundles.
While EE's revenues were down, margins were up to 24.4per cent, meaning the MNO made £760m (EBITDA) in the last six months.
Both companies talked lots about 4G, with EE – having had a regulatory head-start – doing particularly well with the number of its 4G customers doubling in the first half to 4.2 million and being on track to exceed 6 million by end of the year, out of its total of around 31 million customers.
This was a result of 72 per cent of new postpaid customers in Q2 opting for 4G, including 88 per cent of new B2B customers. 5,500+ corporates now use 4G, including new account wins Deloitte and Essex Police. EE is the only network to currently offer carrier aggregation, which gives 4G speeds of around twice that of its rivals.
Vodafone is keen to catch up and is rolling out infrastructure in a programme called "project spring" which is a £19bn investment programme. It will take some time for this to bear fruit and Vodafone is adding 100k UK 4G subscribers a month to EE's 420k. Thanks to the Orange/T-Mobile merger, EE has a substantially bigger customer base in the UK than Vodafone, with EE having 31 million customers and Vodafone having 19.5 million.
One figure operators used to crow about, but have become more reticent on as figures have slid, is the Average Revenue Per User, although someone with two phones is considered to be "two users". With EE, that figure is £18.90, across both pre-paid and post-paid but not including machine to machine. EE says that figure is up 2.7 per cent quarter on quarter.
Text messaging revenue is slipping and there's a 7 per cent growth in data revenue to 48 per cent. Data hasn't overtaken voice yet, but it's close and will do soon.
Most impressive from EE is the low churn rate of 1.1 per cent per month (13.2 per cent per year) on post-paid subscriptions, although of course two year contracts help keep this number down. The number including pre-pay is 22.8 per cent per year – which is pretty much global industry average.
Things are less rosy for Vodafone in Europe, with revenue down 4.9 per cent in Germany, 16.1 per cent in Italy, 15.3 per cent in Spain and 4.7 per cent in the rest of Europe. Its strongest numbers come from the UK – where revenue was still down, by 3.2 per cent.
Things were better for Vodafone in India, where revenue increased by 10.3 per cent and Voda added 3.3 million customers. It says that 17 per cent of its Indian customers now have a smartphone – which makes 29 million users. Voda has recently bought the 11 per cent of Vodafone India which it didn't own, for £900m.
Both businesses are bullish about prospects – but then companies always are in reports. What remains to be seen is if the next iPhone wakes up the market as some analysts hope. ®
Sponsored: Minds Mastering Machines - Call for papers now open