Healthy Fibre biz fattens QLogic's bottom line... and not before time
Only way is up for storage adapter supplier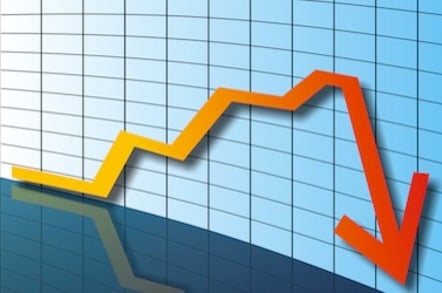 It's a new fiscal year and a fresh first quarter for QLogic... and it looks like Q's droopy revenue woes are set to end. It appears to have bottomed out, with numbers once again on the rise as Q starts growing again.
Generally speaking, Q supplies storage access adapters and controllers for Fibre Channel and Ethernet.
Revenues for the quarter were $119.4m, nicely up 6 per cent on the year-ago quarter's $113.1m and the immediate prior quarter's $115.7m.
Net income was $6m, much better than the year-ago quarter's $3.1m loss and the prior quarter's $46m loss. It seems that newish CEO Prasad Rampilli has cleared out the stables and the operation is now leaner, meaner and keener, although our "leaner" description is open to question.
One of the two main business units did well, the other did not.
Revenue from Advanced Connectivity Platforms (Fibre Channel and acquired Broadcom GbitE controllers) was $104.7m, increasing 12 per cent from $93.2m a year ago.
Revenue from Legacy Connectivity Products (older products and 1GbitE iSCSI) was $14.7m, down from the year-ago quarter's $19.9m in the same quarter last year.
Rampilli's prepared quote said: "We are making significant progress in the enterprise Ethernet market and our revenue from these products is an important contributor to our overall growth. We continue to believe that we are well positioned to experience revenue growth through expanded market opportunities."
The adoption of its 16Gbit/s Fibre Channel products is going well and sampling of 32Gbit/s FC products should start towards the end of 2014.
Stifel Nicolaus MD Aaron Rakers pointed out the business' internal operational effectiveness was weakening: "QLogic's DSO (Days Sales Outstanding) stood at 63 days, vs. 51 days in the prior quarter. Inventory turns were 6.6x, vs. 8.2x in the prior quarter. As previously noted, the company's cash conversion cycle increased significantly to 52 days, vs. 21 days in the prior quarter."
DSO, inventory turns and cash conversion cycles all look at how effective Q's business operations are in terms of collecting money from customers, minimising the time stock spends in its warehouses, and reducing the time between cash being spent buying supplies, building and selling product and cash flowing back into the coffers from customers.
Hopefully Q's revenues and profits will grow again next quarter and its business operations will improve as well, meaning Q can be described properly as becoming leaner. Its revenue bottom should now be behind it. ®
Sponsored: Minds Mastering Machines - Call for papers now open