Internet of Stuff my Pockets: Investors plough 1 BEELLION dollars into IoT
Let's hope it catches on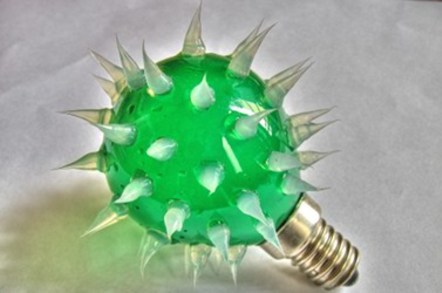 The "internet of things" – the rebranding of good old machine-to-machine comms – has investors chucking ludicrous amounts of cash at firms who hope to get our gadgets talking to each other.
Now new research from analyst StrategyEye has found that investors have bunged more than $1bn at companies associated with the internet of stuff, as El Reg has dubbed it.
To many of us, the IoT means gear for the smart home, another buzzword which anticipates a time when fridges, tellies and even sex toys can spy on their owners, gather data and interact with other devices.
But to StrategyEye, the IoT also means wearables, which can also spy on owners, collecting data on their movements, vital signs and various other bits of information few would want broadcast to the world. Here's how StrategyEye explains it: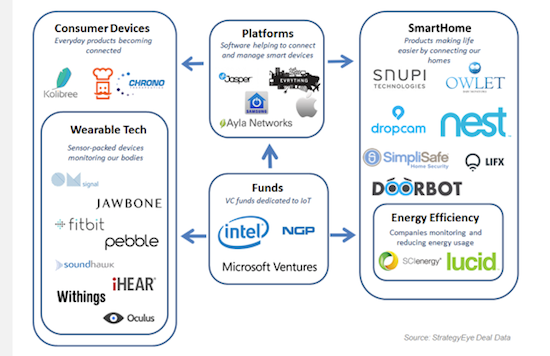 "If some companies had their way they'd connect everything from your fridge to your dog to the internet," StrategyEye warned. "Welcome to the age of the Internet Of Things. More than a billion dollars was pumped into IoT startups over the past 18 months and this shows no sign of abating with the likes of Intel, Microsoft, Google and Kleiner Perkins all involved with IoT-focused funds."
According to the analysis firm's stats, the biggest recipient of the IoT bonanza has been Jawbone, maker of the UP fitness band. It netted a total of $350m from investors including Wells Fargo, JPMorgan Chase and Sequoia Capital.
Oculus VR, designer of the Oculus Rift, raked in $75m, while Jasper was handed $50m. Sadly, that dosh wasn't handed to the author of this piece, but a firm specialising in connected devices and enterprise tech.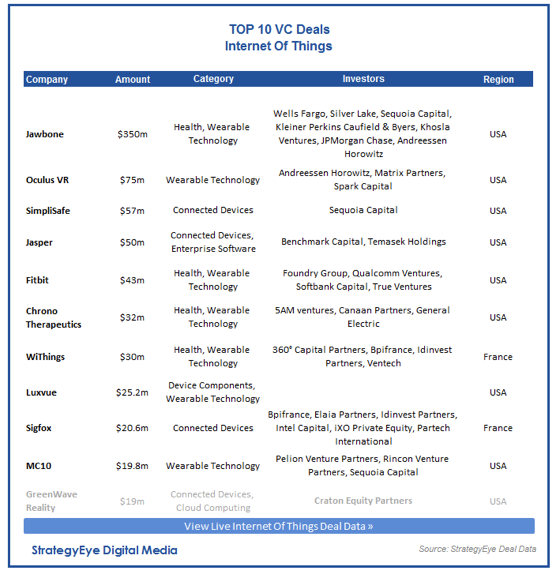 In a supplementary blog post, StrategyEye said the one thing holding back the development of the IoT was not money (duh), but the lack of a industry standard language governing how devices communicate.
If this little hurdle is overcome, the industry could be worth $9.4bn by 2017, the analysis firm continued.
Which might be why Google forked out more than $3bn to slurp Nest, which specialises in making the spooky thermostats of the future. ®
Sponsored: Minds Mastering Machines - Call for papers now open