Come close, dear reader. Past those trees you'll see a non-Microsoft Nokia Oyj in the wild
Oh, it's a bit wobbly on its feet but it still has its wits about it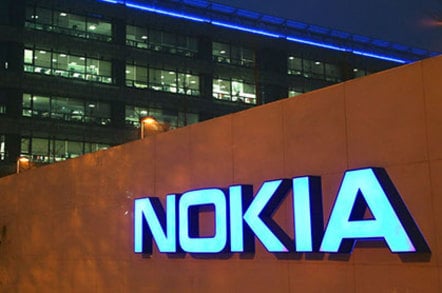 Nokia – the Finnish networking firm, not the Microsoft division that sells low-cost mobes running Windows Phone – reported earnings for another difficult quarter on Thursday, yet showed signs that its operations are beginning to stabilize since punting its Devices and Services business off to Redmond.
Net sales for the second quarter of Nokia Oyj's fiscal 2014 were €2.94bn ($3.96bn), a 6.8 per cent drop from the April-through-June period of 2013 but a 10.5 per cent increase over the previous sequential quarter.
That figure also just managed to beat analysts' estimates, as did the company's Q2 earnings [PDF], which came in at €0.06 ($0.08) per diluted share.
As mentioned, sales of carrier-grade networking equipment are the mainstay of the new Nokia, particularly in the mobile broadband market, where the company describes itself as "the world's specialist."
Net sales for the Nokia Networks division accounted for 87.4 per cent of the total in the second quarter, which was in keeping with the first quarter's split. But relying so heavily on mobile broadband sales is problematic, because when Nokia Networks hurts, so does the company as a whole.
To be specific, Nokia Networks brought in net sales of €2.57bn ($3.46bn) in the second quarter of 2014, which was 7.7 per cent less than in the year-ago quarter. Worse, the division's operating profit was down 14.3 per cent, to €281m ($378 m).
As a direct result, excluding amortization and other accounting-related items, Nokia's overall operating profit for the quarter suffered a year-on-year decline of 19.3 per cent, to €347m ($467).
Yet Nokia's own outlook for the remainder of the year was positive. The Finnish firm said it expects its Nokia Network sales to grow, year-on-year, for the next two quarters, and it said it still expects its full-year sales to meet its earlier guidance.
Meanwhile, although the company's other two divisions only account for a fraction of its total revenue, they at least managed to keep their sales figures up. The Nokia Technologies R&D division saw net sales of €147m ($198m) in the second quarter, a 1.4 per cent year-on-year increase, while its operating profit was up 6.7 per cent, to €96m ($129m). HERE Maps, on the other hand, had essentially flat sales of €232m ($312m) but saw no profit.
Still, while none of the new Nokia's divisions is exactly going like gangbusters – not yet, anyway – investors generally seemed pleased that the company is showing definite signs of life, and even good health, after jettisoning its long-suffering phone business. Nokia shares closed up 8.33 per cent on the New York Stock Exchange on the news. ®
Sponsored: Minds Mastering Machines - Call for papers now open