Microsoft confirms secret Surface will never see the light of day
Microsoft's form 8-K records decision 'not to ship a new form factor'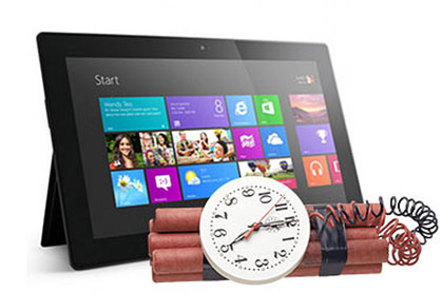 Speculation that Microsoft contemplated a "mini" version of its Surface fondleslabs, but decided not to let it see the light of day, has been confirmed in Redmond's 8-K form lodged with the US Securities and Exchange Commission (SEC).
The filing includes a section on "Computing and Gaming Hardware" that says "Current year cost of revenue included Surface inventory adjustments resulting from our transition to newer generation devices and a decision to not ship a new form factor."
That could be a reference to another, as-yet-un-disscussed form factor. But the smart money is that Redmond is referring to the Surface Mini, and that "decision not to ship" could well mean that Redmond cranked out some of the mystery devices but decided not to let them see the light of day, never mind a warehouse or shop.
The other interesting number in the 8-K is found in the assertion that "our commercial cloud revenue doubled again this year to a $US4.4 billion annual run rate." In Redmond-talk "commercial cloud" means Office 365 for business and Azure. The news isn't all good: the company also reports that commercial licensing revenue was "offset in part by lower revenue from on-premises Office products". But there's still six per cent growth in commercial licensing, so Microsoft looks to be managing the transition to cloudy productivity software well even if it didn't manage to the transition to smaller (or otherwise-shaped) Surfaces. ®
Sponsored: Minds Mastering Machines - Call for papers now open