Help yourself to anyone's photos FOR FREE, suggests UK.gov
Copyright law reforms will keep m'learned friends busy
No, you can't sneak round the back and try again
The law itself today is complex, but it's far from daft. It's certainly more flexible and accommodating than the copyright reform headbangers think. Photographs can't be reproduced for news reporting but can be reproduced for commentary or criticism. Biographers can quote excerpts of a letter, but not the whole letter. You can't quote a whole poem or novel that's under copyright. But nowhere does the current law state that a whole work can't be quoted - for that would outlaw quoting a copyrighted slogan.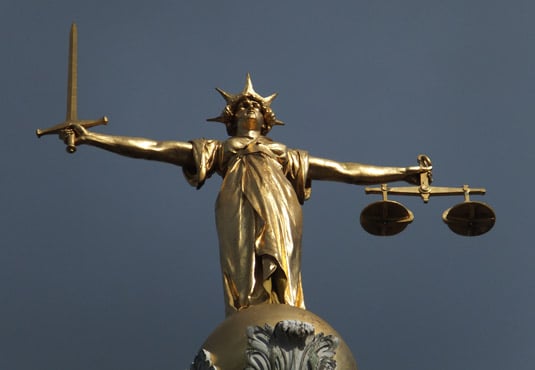 The law: A ass, a idiot ... if Hargreaves and Co get their way
BAPLA's Isabelle Doran told us: "Historically, the Criticism & Review Exception was introduced for the purposes of reporting a current event, provided there is sufficient accompanying acknowledgement and that the dealing was fair; the exception does not apply to photographs as it was argued that photographs contain a unique visual report of a person or an event, and therefore as photos are excluded it meant a newspaper could not use photos from rival newspapers and claim a fair dealing defence. We believe this successfully struck the right balance between the protection of the rights of the author and the wider public interest.
"The introduction of a substantially wider exception under 'quotation' which does not exempt photography potentially opens the door to greater exploitation both in print and online," continued Doran, "especially by those that simply aggregate content either posting or linking to them and are not those developing the story."
How so? Another expert explained:
"The problem, it seems to me, with the new exception is the vagueness of the language. 'Criticism' and 'review' are activities with specific purposes; 'quotation' is not. A 'quotation' is usually an extract from a longer work (normally literary or musical); see OED, s.v. quotation, 5a ' A passage quoted from a book, speech, or other source'. If that is taken seriously, then the quotation exception cannot be used to reproduce a whole image. But who knows what people will try to do, or how judges will rule?"
Doran says this adds to the expense and uncertainty for everyone, particularly the image-makers:
"A fair dealing test will apply to both quotation and parody but without any kind of definition within the legislation nor UK case law, therefore what exactly should be regarded as a quotation or parody? It is very possible that users of copyright works will take an overly broad view, leaving it for photographers to ask the courts to clarify, the costs of which would always vastly exceed the cost of an image licence at stake. This really is a body blow to photographers who are already finding it difficult to control use of their photos online."
As the government's civil servants blithely point out in their impact assessment (PDF): "'Fair dealing' is a legal defence, which is ultimately for courts to determine."
And so they must.
It's worth bearing in mind the genesis of the Hargreaves Review. This rapidly became known as the "Google Review", because Prime Minister Cameron announced it by musing whether the UK needed the equivalent of "Fair Use" to help nurture a British Google.
When it comes to the Hargreaves review, it appears the IPO has ultimately decided against a front-door approach. But perhaps Google will achieve its aims anyway - with the IPO throwing everything open for the courts, and activist judges, to decide. ®
Footnotes
* Four ministers have supervised Ian Hargreaves' Californian-inspired tilt at rewriting UK copyright laws: Baroness Wilcox (May 2010 to September 2012); Lord Marland (September 2012 to January 2013); Viscount Younger of Leckie (Jan 2013 to July 2014); and now Baroness Neville Rolfe. Younger made headlines when he confessed that Google had better access to No 10 than he had. ®
** Lord Scott (Richard Scott of the Supergun Inquiry) took IPO officials to task in May: "One of the bedrocks of English law is the sanctity of contract ... what the contract override provisions are providing is that you cannot make a contract to protect the copyright holder even if the price on which he is willing to allow whatever it is to go to the user is much lower than it would otherwise be."
When the IPO explained that "We do not want contract law to basically undo what we are trying to do in exceptions," Butler replied, "Forgive me, but that sounds to me like a little piece of government arrogance that goes far beyond what is legitimate… It is appropriation of the copyright holder's valuable item of property." (PDF).
Sponsored: Minds Mastering Machines - Call for papers now open