June Whitfield and EE to old folk: Would you like a nice cup of tea and some internet, dear?
And a biscuit, and one of those portable phones. Mm, lovely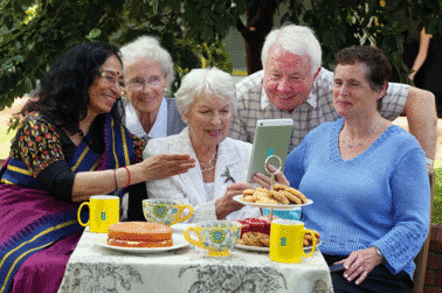 EE has realised that while the vast majority of their target market has at least one phone, there is a whole untapped business opportunity in older people. So the company is inviting loads of them around for a cuppa to try and sell them a phone and internet connection.
On September 9th EE will be devoting the morning to hosting walk-in sessions where older people can wander in with their technology to get help using it. EE staff will then talk them through things like setting up email and using Twitter to complain talk to world+dog. This is akin to a programme O2 had a while back called "teach your granny to text".
There will be two types of techy tea party. Larger stores will hold seated sessions where you'll sit down and be partnered one-to-one with a member of the EE team. Smaller stores, will host drop-in sessions where you can ask staff questions and still enjoy a cup of tea and a biscuit.
To join in on a techy tea party customers can either go to a shop and register – we'll be trying this in a few shops to see how on the ball they really are – or try and navigate the website. Which, helpfully, features white text on a photographic background and grey text on a grey background, but hey, that's the corporate guidelines and being on-message is much more important than being useful.
The site is unforgiving – phone numbers entered with spaces are not accepted. There is no phone number to call for information, which you would have thought quite fundamental for, well, a phone company.
Given EE's clear ineptitude in this, the company has partnered with an organisation which knows what it is doing. To get old folks through the doors of EE shops for some English breakfast and a cuppa tea, EE has enlisted the help of Age UK, the organisation which grew out of the merger of Help The Aged and Age Concern. Age UK is a charity with a commercial mien and does a lot of good work in social inclusion. It has a good understanding of the needs of its wide-ranging 65+ target market and works closely with the government's Go ON programme to get seniors online.
EE is making a big splash around the tea parties with Age UK's ambassador June Whitfield CBE, EE boss Olaf Swantee and some chap called David Cameron all waxing lyrical about digital inclusion. Go ON UK, UK Online Centres, Marie Curie Cancer Care, EON, the National Citizenship Service, the Royal Voluntary Service, Argos and Wembley Stadium have all pledged support. Also in the loop is the Post Office, which recently announced an MVNO agreement with EE.
There seems to be money in the kitty from Asda, which upset a lot of people by moving its MVNO from Vodafone to EE, leaving PAYG customers' pre-paid credit behind in the move. Asda backed down following the intervention of BBC Moneybox.
Also along for the ride is Samsung, which doesn't make any devices for older people. In El Reg's view it would have been more sensible to have roped in senior phone specialists Doro.
Tetley will be providing the tea. Which is nice.
Orange did have a specialist in the field of phones for seniors looking at how to make the company more senior friendly but she left early in 2012 and was not replaced. The Techy Tea Parties are not being backed up with any new services from EE.
Seniors will still be expected to top up their mobile phones using the interactive voice response (IVR) system and will then get text messages, which, on the whole, they find confusing. There are no plans to roll out senior-friendly devices, such as tablets which don't need you to get a micro USB connector in the right way around, with EE preferring the idea of having a one-off event showing seniors how to work their newfangled gumble.
Comment
Doing something to support seniors is laudable, but EE needs to understand that it needs to be a fundamental part of its culture and not a corporate social responsibility dusting on top of a plate of bacon and eggs. ®
Sponsored: Minds Mastering Machines - Call for papers now open