Plucky Rockall podule man back on (proper) dry land
Bold, barmy Brit adventurer Nick Hancock escapes North Atlantic islet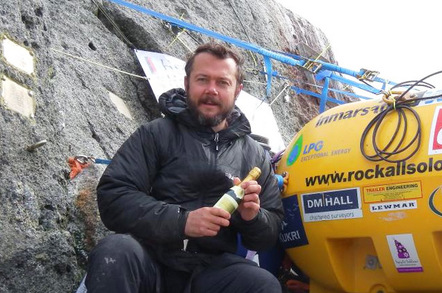 Brit adventurer Nick Hancock left the North Atlantic islet of Rockall on Saturday, following a marathon 45 days atop the granite outcrop which saw him claim both the solo and group occupation records.
A dramatic photo tweeted by Atlantic Marine Services shows the seaborne recovery operation in progress.
Atlantic Marine Services recover Nick Hancock @RockallNick (Rockall solo) from Rockall after breaking all records. pic.twitter.com/Ubwc9fY8Cj

— Atlantic Marine (@amarineservices) July 20, 2014
Hancock's planned 60-day holiday atop Rockall in a survival "Rockpod" survival podule started well enough, with clear skies and calm seas allowing him to indulge in some light birdwatching and generally catch up on his reading.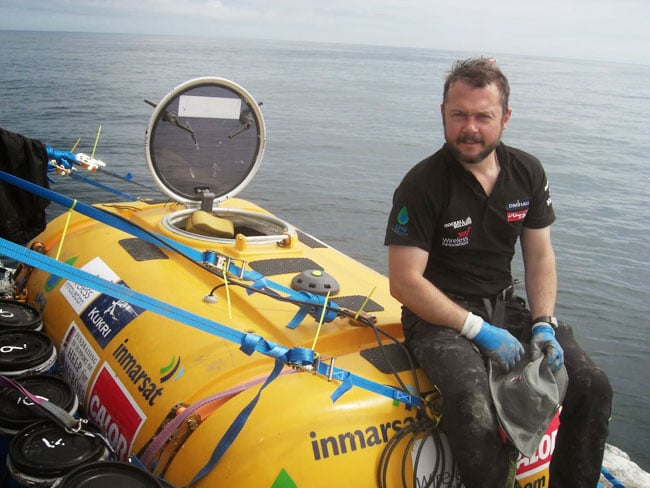 Deceptive calm: Nick Hancock and his survival podule before the storm
However, a vicious storm in early July made off with a good part of his food supplies, prompting him to request an early visit by the extraction vessel.
Hancock described the tempest as "the worst experience of my life, ever". He wrote:
I have never been so scared, not helped by the worst of the weather coming in the hours of darkness so I could neither see nor brace myself for impacts by spray and waves. All evening and into the night the sea state slowly got worse and the wind strength grew to over gale force, until at around 0300hrs the pod was hit hard by a wave, fifteen metres above sea level. We were shunted around a foot but fortunately quickly returned to our original position.
The rattled pod-dweller hung on to claim ex-SAS chap Tom McClean's 40-day solo record, set in 1985. The event prompted a modest celebration with a small bottle of champagne which Neptune had kindly decided not to consign to Davy Jones' locker.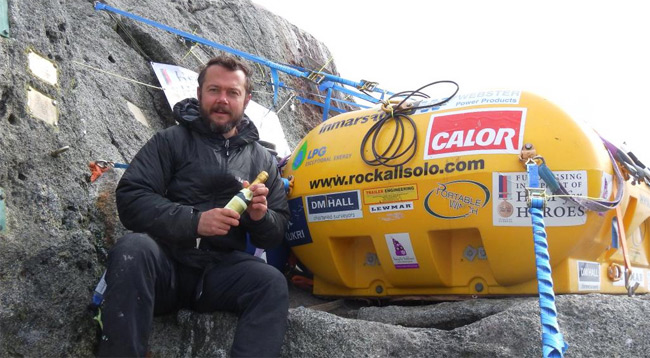 40 days atop Rockall. Cheers
A couple of days later, Hancock wrested the longest occupation crown from the heads of the three Greenpeace members who endured 42 days on the world's remotest outcrop in 1997.
His last blog entry on 17 July describes packing up kit ready for departure, and a visit by Woods Hole Oceanographic Institute vessel Knorr, which got him out of bed early with a call over the VHF radio. He wrote:
We had a good chat; they told me that they had been laying moorings in the area and had come to Rockall specifically to see me. An added bonus, as today marks the longest anyone has ever been on Rockall, was that they set off a barrage of fireworks in my honour from their rear deck, which was amazing to see all the way out here.
On Sunday morning, Hancock confirmed he'd reached the island of Harris, in the Outer Hebrides.
Back on dry land in Leverburgh. Thanks to everyone for all there help. You can still support @HelpforHeroes at http://t.co/pnb5B40e6l

— Nick Hancock FRGS (@RockallNick) July 20, 2014
It's a tip of the hat and a raised pint or two to Hancock for his achievement, especially given he'd already been thwarted in 2013 in his first attempt to assault the rock.
I was similarly defeated by the cruel sea in 2003 during a first trip to the sacred islet...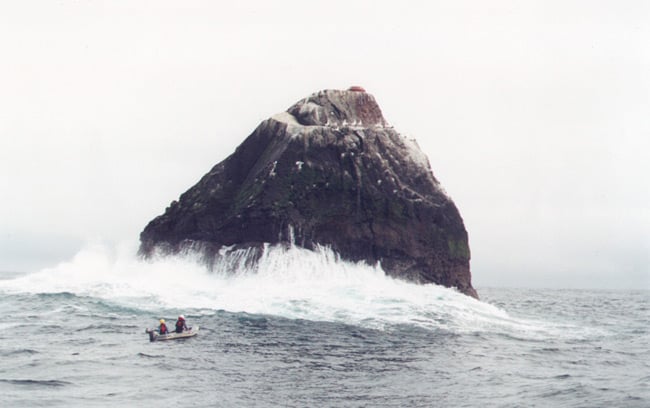 A touch of swell thwarts our 2003 assault on the sacred islet. Pic: Mark Alden
... although I did finally ascend to the summit in 2005 with, among others, Al Baker of 1997 Greenpeace occupation fame.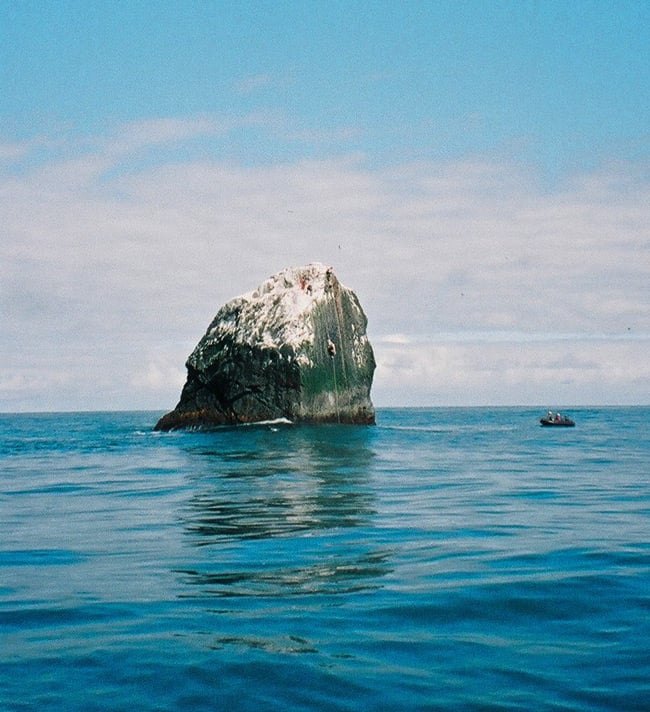 Success: Our 2005 ascent of Rockall
Having spent a couple of hours admiring the view from the windswept and guano-encrusted peak, I can categorically say that under no circumstances would I contemplate spending three days on Rockall, let alone 45. ®
Bootnote
Agreeably, a search on Google Maps reveals the exact location of Rockall, which is right here: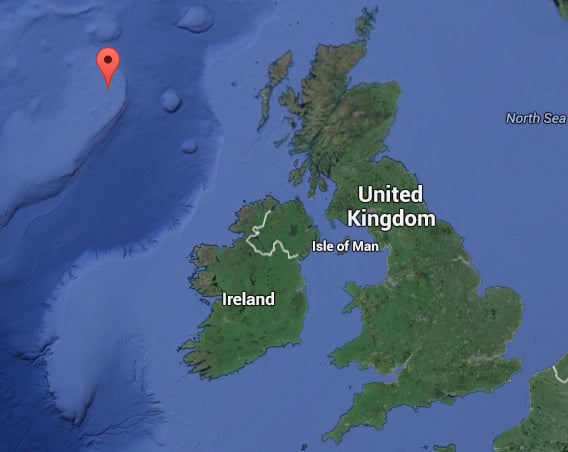 Sponsored: Minds Mastering Machines - Call for papers now open