Motorist 'thought car had caught fire' as Adele track came on stereo
'FIRE' caption on dashboard prompts dunderheaded hard shoulder halt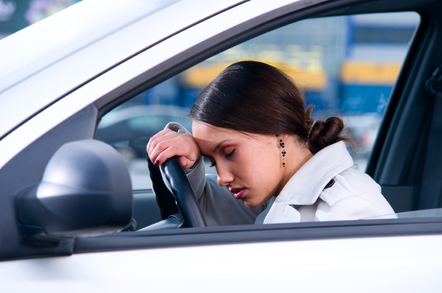 A panicked motorway driver abandoned his car after the word "Fire" scrolled across his dashboard – but it wasn't a warning system kicking in: it was the name of the Adele song he was listening to.
Stopping on the hard shoulder of British motorways is illegal unless it's an emergency but folk still do it for all kinds of bizarre reasons, according to the Highways Agency.
Between July and September last year, over 2,000 drivers illegally parked up on the high-speed roads, including one who wanted to take a quick a nap and others who felt like picking some flowers.
One motorist was also a mite confused by his car's hi-tech dashboard. Seeing the word "fire" appear on the dashboard, this luckless individual thought it was a warning that the vehicle was about to burst into flames and not part of the title for the song "Set Fire to the Rain" by chanteuse Adele.
"Every day, millions of people use our motorways. Most of them use the hard shoulder correctly and don't ignore red X's, but we are appealing to the few who put themselves, other road users, and those working on motorways at risk," said Jamie Hassall, Highways Agency national enforcement co-ordinator.
"Where the hard shoulder is used as an additional traffic lane at peak times, you can only drive on it if there is a speed limit over it. When a red X is displayed over any lane, it's simple – don't drive on it."
Other inappropriate reasons given to traffic officers on the highway for pulling up on the hard shoulder included ringing around for insurance quotes, checking maps and sat-navs and snapping pics of a beloved grandchild in a sports car because it was "a lovely day".
Officers even came across two cars parked on the hard shoulder because one motorist was halfway through selling the car they were driving to the other. ®
Sponsored: Minds Mastering Machines - Call for papers now open