Goodwill's goodwill rocked as Feds probe bank card hacking scam
We think we're safe, insists non-profit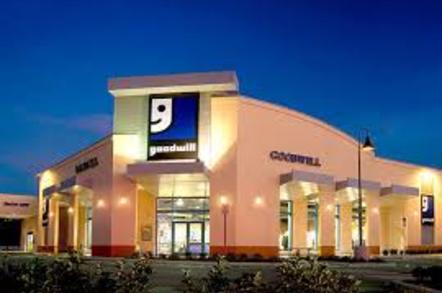 American charity Goodwill is being investigated by US federal authorities as the possible ground zero for a major debit and credit card security breach. But the company says it thinks it's in the clear.
"Goodwill Industries International was contacted last Friday afternoon by a payment card industry fraud investigative unit and federal authorities informing us that select U.S. store locations may have been the victims of possible theft of payment card numbers," the US non-profit said in a statement.
"Investigators are currently reviewing available information. At this point, no breach has been confirmed but an investigation is underway."
Goodwill accepts donations of discarded household items and clothing, sells them in a network of stores, and online, and then uses the money to provide job training, teach language skills and so on. The org was set up as a Methodist outreach ministry and now has revenues counted in the billions.
"A sad fact of modern security: even the best of us are targets, as we see with the emerging breach at Goodwill. Many organizations have been in denial for too long – executives are tempted to think 'why would anyone come after us?', when we're a charity, or a medical institution, or a sports team," said Dr Mike Lloyd, CTO at security biz RedSeal Networks.
"Many industries are loved by the public, and can lapse into thinking they don't have enemies, and so don't really need to worry about security. But the fact is that attackers use automation, and search for any door you leave open in your infrastructure – they can twist doorknobs on a global scale, and they don't much care which doors they open."
Security journalist Brian Krebs first reported that the store chain was under investigation after financial institutions began to notice a series of debit and credit card frauds. While none of these occurred at Goodwill itself, several of these institutions have pointed to the chain as a common source for card fraud at other stores.
According to financial industry sources the problems may go as far back as summer last year, and incidents that have been linked to Goodwill customers have been reported in 21 states, including California, Texas, Florida and New Jersey.
The US Secret Service, named as the agency investigating, had no comment at time of going to press. ®
Sponsored: Minds Mastering Machines - Call for papers now open