Microsoft's Jester bangs the Windows Phone drum
Enterprise! Enterprise! Enterprise!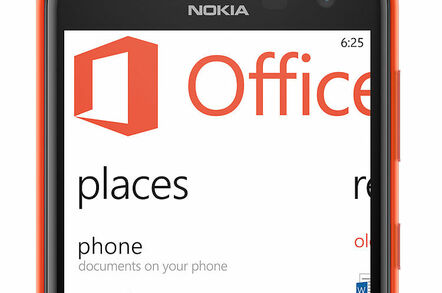 American John Jester is a 14-year Microsoft veteran. He used to be responsible for the company's top 100 enterprise accounts around the world, but now heads up Microsoft's UK's enterprise and partner group. "I used to spend my life on an airplane, so I quite enjoy the fact that my current role involves exactly one time zone," he jokes.
Jester is relishing life in the UK. His children attend an international school and are fast becoming global citizens. He says that living in the UK is giving them all sorts of opportunities that they would never have had in the US – for example the family went to Edinburgh festival last year and is off there again this year.
He has been in his current role for three years so has had plenty of time to observe the British way of doing business and analyse the differences between the company's UK and US customers. "I would say that business is done in very similar ways," he says, "but when it comes to adoption of the cloud model and mobility, UK enterprise business has the highest uptake of MS cloud offerings anywhere in the world. Cloud adoption has been aggressive in the three years, we didn't see the UK edge ahead of the US until about a year and a half ago." The drivers for this adoption are business imperatives like the need for agility and the need to make cost savings, he says.
He thinks enterprise businesses in both the UK and US are emerging strongly from recession: "We do events two or three times a year with CIOs from our large customers," he says. "I always like to ask about their top priority: three, four and five years ago, the top priority was always saving money. But in the last two years there's been much more focus on driving innovation. Customers are investing in new capabilities and not just on keeping things working."
So moving to the cloud and enterprise mobility are now top priorities, as is business intelligence. Says Jester: "Businesses have so much information and data, but they need to capture it properly. And maybe more importantly, our customers are finding they have captured all this data, and now they need enable people to analyse that data and to make faster decisions based on that data. That's a real priority for our customers."
Microsoft has a strong cloud enterprise offer, but its enterprise mobility offer is also taking shape, and the company is pushing hard to show how it can make people productive anywhere on any device. Jester says that at a recent MS enterprise event, the CIOs present were much more interested in the innovation and opportunities to be agile that come with Microsoft's end to end solution than the devices it offers.
"The device is just one small part of it," he says "the real power for businesses comes from finding the right line of business applications, getting those into the hands of the mobile field forces, tying those devices back into the company's data and information and empowering those employees to be productive on the go. It's the strength of the platform, how secure it is, how you manage it, how it connects back to line of business applications - that's the most compelling part of Microsoft's story."
Jester says that Microsoft is seeing market share gains for Windows Phone specifically in the enterprise: the strength of its cloud offering is creating a pull for its mobile devices, but Microsoft also recognises that it has to make its platform available on whatever devices its customers want to use. "Because we're cloud first, mobile first, we're going to enable these tools on other devices. We have to provide great enterprise-class services to our customers on any device," he says.
"What's important is that your information is in the public cloud and accessible to you anywhere - you can use your tablet on a train with a data connection, use your phone when you're in the back of a taxi, use your PC in the office: that's the game-changer, making people productive anywhere they are."
According to Jester says that while many enterprise customers still carry a few devices – typically a BlackBerry for work and an iPhone for personal use – he thinks that they will start to consolidate onto a single device. "Obviously we hope that it will be a Windows Phone. Many of the customers I manage, to be frank, are using BlackBerrys and looking to make a change." This was the scenario with Cambridgeshire Police, which is replacing 8,000 BlackBerrys with Windows Phones, he says.
Aside from Microsoft strengths in cloud and line of business applications, release 8.1 of the Windows Phone operating system was key in this decision – 8.1 has many additional enterprise features and Jester is confident that the company's market share will grow as it gets 8.1 fully out to market.
"We find that we can do a pilot with say 15 Windows Phones and work with a customer on the integration platform, putting the devices in hands of some the key executives and the mobile work force. They find that it works - they have a secure, encrypted, well-managed enterprise device which also works as a personal device." ®
Sponsored: Minds Mastering Machines - Call for papers now open