PROOF the Apple iPhone 6 rumor mill hype-gasm has reached its logical conclusion
A mobe that lights up? My God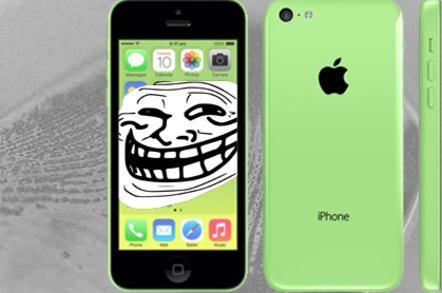 As Apple reveals a new iPhone around about this time of the year, speculation on a refreshed smartphone is rife. Today, the rumor mill hit a new low – or high depending on your level of fandom.
A set of "leaked" "images" suggests the next iPhone will sport a translucent Apple logo on the back of its case, which will light up when a notification is received.
The rumor is built on photos obtained by price-comparison outfit uSwitch from serial leaker Sonny Dickson. It seems the new iPhone will replace the printed Apple logo on the back of the phone with a plastic logo etched into the back of the casing.
The semi-translucent logo could then be used as a sort of silent notification, lighting up when the user receives a text message or other annoyance. Apple uses a similar light-up logo on the back of the MacBook Pro case.
The report comes at the peak of what has become an annual silly season of iPhone rumors and speculation. Apple introduces its new iPhone at events in late August or early September, allowing speculation to build over the summer months as the devices go into manufacturing.
This year, the company is believed to be planning a September unveiling; the iThing is then expected to go on sale in late September or early October.
This year's iPhone overhaul is said to include the introduction of a 5.5in screen (which may not see release until 2015) and sapphire glass believed to be more durable than that used in previous models. ®
Sponsored: Minds Mastering Machines - Call for papers now open