Cave pits, ideal for human bases, FOUND ON MOON
Come on in out of the radiation and meteorites, and enjoy the unchanging temperature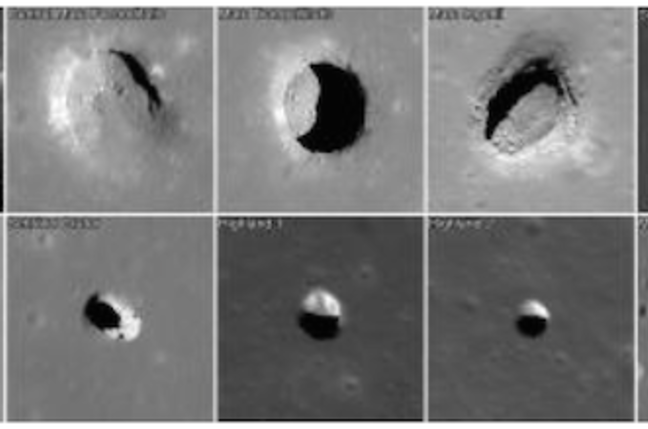 Moon-gazing boffins have found many steep-sided, shaft-like pits which might have caves or overhangs that would be ideal locations for lunar bases of the future.
Using images beamed back from NASA's Lunar Reconnaissance Orbiter (LRO), scientists identified more than 200 holes with steep sides. Most of the pits were found in areas of the moon known as lunar marias, which are dark plains of solidified lava once believed to be oceans.
Ranging from 5 metres in width to 900 metres, the holes - especially if they do have caves in their sides - could allow astronauts to shelter from the ravages of space, particularly dangerous radiation storms and meteorites.

"Pits would be useful in a support role for human activity on the lunar surface," said Robert Wagner of Arizona State University. "A habitat placed in a pit - ideally several dozen meters back under an overhang - would provide a very safe location for astronauts: no radiation, no micrometeorites, possibly very little dust, and no wild day-night temperature swings."
Wagner developed a computer algorithm which scanned high-resolution photographs taken by the LRO's Narrow Angle Camera to automatically identify the pits.
He suggested these lunar pockmarks were developed when the roof of a pre-existing cave or tunnel collapsed, perhaps after a meteoroid crashed into the moon's surface nearby. They could also have been created by direct meteor strike or the movement of molten rock beneath the surface, which flowed away to leave a large void.
Wagner and his team now want to send a probe up to the moon to explore the pits.
"The ideal follow-up, of course, would be to drop probes into one or two of these pits, and get a really good look at what's down there," he added. "Pits, by their nature, cannot be explored very well from orbit - the lower walls and any floor-level caves simply cannot be seen from a good angle. Even a few pictures from ground-level would answer a lot of the outstanding questions about the nature of the voids that the pits collapsed into. We're currently in the very early design phases of a mission concept to do exactly this, exploring one of the largest mare pits." ®
Sponsored: RAID: End of an era?