Clouds gathering above Big Blue's storage empire
Public cumuli from AWS, Google and Microsoft, to be specific
The Big Blue IT colossus' storage revenues have carried on declining, with only FlashSystems showing growth, and stellar growth at that.
Within the Systems and Technology segment of IBM's second quarter 2014 results, revenues from System Storage decreased 12 per cent - although flash storage grew more than 100 per cent.
This is the eleventh quarter in a row in which the Systems and Technology business' revenues have declined.
Splitting out the storage revenues from IBM's results and plotting them by quarter and year we get a picture of how each quarter is doing in a succession of years: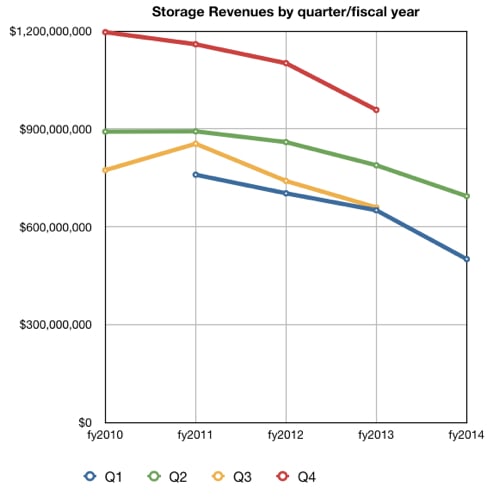 Track how the quarterly storage results change from year to year. They are all declining
The green line in the chart represents second quarter storage revenues in 2010, 2011 and so on to this year. It's a trend of deepening decline.
A few years ago IBM went on an acquisition spree to improve its storage product range. That, to our way of thinking, seems unlikely to be a course of action IBM will take at present. This writer would also suggest that the biggest strategic threat to IBM in storage, servers, software and services is the public cloud. If customers are not buying IBM hardware to run IBM middleware and using IBM Global Services to produce the systems that link this HW and SW to business processes - because they are storing data, running applications and such processes in the cloud - then IBM revenues, net income and EPS will all fall.
Could it be the case that the hybrid cloud is only a temporary stepping stone, in a timescale of decades, to public cloud computing dominance; the equivalent of global IT warming and climate change? And, in that case, perhaps the only sure way to compete with the public cloud is to have your own public cloud offering?
That's what IBM is doing with its SoftLayer initiative. Stifel Nicolaus MD Aaron Rakers noted:
"[IBM] expects to continue rolling out its SoftLayer data centers in 3Q14 and 4Q14 ... earlier this year, IBM announced its intention to invest $1.2 billion to expand its cloud data centers – planning to open 15 new data centers worldwide, adding to its existing 13 global data centers acquired via SoftLayer and 12 from IBM."
If you can't beat the Amazon, Google and Microsoft clouds in the global IT warming game ... then join them. ®
Sponsored: Minds Mastering Machines - Call for papers now open