Fear a terrifying killer robot revolution? GET A GRIP: Boffins invent cyborg hand for humans
Now you can unscrew that jam jar, fight off androids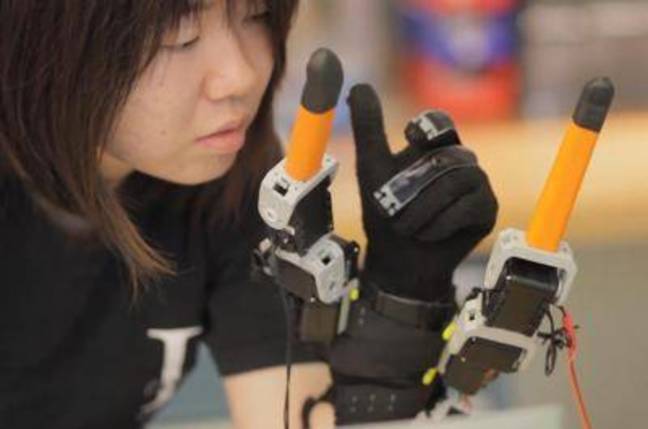 Photo A team at the Massachusetts Institute of Technology has developed a powered glove equipped with two robotic fingers that is designed to augment the puny flesh and bone accouterments that adorn our human hands.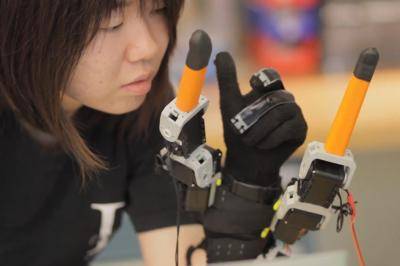 Who wants five fingers when you can have seven? Credit: Melanie Gonick/MIT
The glove has sensors to register the wearer's finger movements, and feeds this into a computer algorithm to control the robotic attachments. The mechanical fingers, positioned on either side of the hand, then provide extra grip.
"This is a completely intuitive and natural way to move your robotic fingers," said Harry Asada, the Ford Professor of Engineering in MIT's Department of Mechanical Engineering. "You do not need to command the robot, but simply move your fingers naturally. Then the robotic fingers react and assist your fingers."
To create the control algorithm, the team studied the movement of the human hand and found that all gripping gestures are essentially a combination of bringing the fingers together and twisting them inwards. This could just as easily been mimicked by seven fingers as by five, the researchers reasoned.
As it turns out it's not quite that simple – when is it ever? Everyone's grip is slightly different, and the robotic unit needs some training to successfully copy different people's style of hand movement successfully.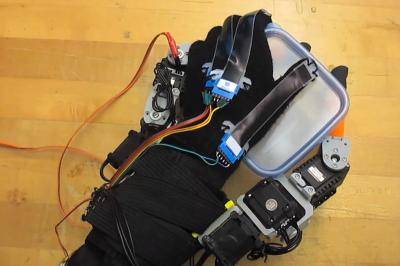 MIT's robot fingers get a grip. Credit: Melanie Gonick/MIT
At the moment the robot fingers are designed to merely mimic the gripping style of the user with the same force as exerted by fleshy fingers. But in the future the team wants to add variable force to the mechanical digits and shrink the unit into something everyone could wear on a day-to-day basis.
"This is a prototype, but we can shrink it down to one-third its size, and make it foldable," Asada says. "We could make this into a watch or a bracelet where the fingers pop up, and when the job is done, they come back into the watch. Wearable robots are a way to bring the robot closer to our daily life." ®
Sponsored: RAID: End of an era?