Nakivo: Yet another VMware server backup biz going bananas
That's not a sneeze, that's its actual name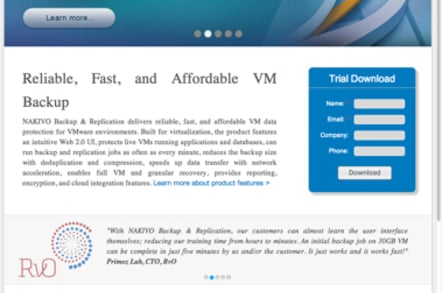 Thirty-month-old startup Nakivo has erupted into view as an alternative to Veeam for VMware server backup, claiming more than 3,000 customers and a triple-digit growth rate.
Nakivo Backup & Replication provides VMware server backup and replication to the SMB market with disaster recovery and business continuity features. It has an office in Singapore and another in Kiev, and is obviously a Veeam competitor.
Nakivo says it "provides a fast, reliable, and affordable VM backup and replication solution for enabling SMBs and enterprises to protect and recover VM data onsite, offsite, and in the cloud."
Think cheap, cheerful, fast and efficient. Server data can be backed up to a public cloud, such as Amazon or Dropbox. Privately held Nakivo's history is as follows:
January 2012: Founded by Sergei Serdyuk, Nail Abdalla and Bruce Talley, with headquarters in Campbell, CA. Version 1.0 product backs up to Amazon cloud.Profitable since being founded.
January 2013: Produces a Free Edition that does ad-hoc backups of running VMs for operational, archival, and portability purposes.
February 2013: Trade-in program to replace Veeam, vRanger, AppAssure, and PHD VM backup products.
March 2013: Version 3.0 product released with "file recovery from local and cloud based VM backups, single click integration with Amazon cloud, and advanced reporting. Various minor updates during the year. Boasts of 800 per cent revenue growth.
April 2014: Version 4.0 released with MS Exchange log truncation and objects recovery, and VM backup verification.
Its second 2014 quarter results grew 337 per cent, year on year, to more than 3,300 customers, we're told. The revenue was split 53 per cent from Europe, 42 per cent from North America, and 13 per cent from Latin America, Africa, Middle-East and Asia. Some 17 per cent of its customers came via a trade-in program in which VMware's server backup software was replaced with Nakivo's product. Those customers got free code, only paying for maintenance and support.
Nakivo now has more than 500 channel partners spread over 55 countries.
Bruce Talley, CEO and co-founder, bragged: "NAKIVO's revenue and customer growth rate continues to be the highest in the VMware data protection and cloud backup industry."
Is there such widespread dissatisfaction with legacy backup suppliers? These incumbents all offer VM server data protection, yet incomers like Assigra, Nakivo, Veeam and others are threatening to blow them out of the water while boasting of stellar growth rates.
Well, yes, there must be some level of dissatisfaction, otherwise we wouldn't be seeing the growth rates.
Oddly, all of the incumbents will have said that listening to their customers is a high priority. Yet that doesn't seem to working, and now Nakivo, Dell, Veam et al are bent on knackering them.
Tally added: "In the second half of 2014, cloud service providers, SMBs, and enterprises can count on NAKIVO to expand its cloud backup functionality while continuing to deliver a fast, reliable, and affordable VMware data protection solution."
Grab a NAKIVO datasheet here [PDF]. ®
Sponsored: Minds Mastering Machines - Call for papers now open