Red Hat drops Calamari into pan: Now we're cooking with gas
Management tool lands on plate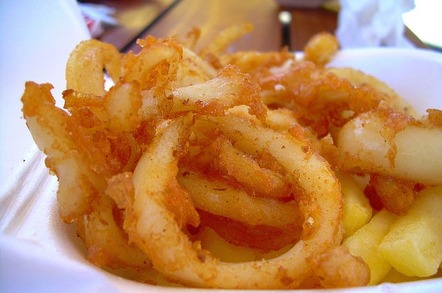 Carmine headgear-sporting open-sourcer Red Hat has made a refreshed version of its Ceph Enterprise product available, adding the ability for it to manage high-access rate hot data and across the data lifecycle to cold archival data.
Ceph is an open source distributed object storage system which Red Hat added to its armoury by buying Inktank for about $175m in May. It can have block and file interfaces as well. Ceph Enterprise is a paid-for version. Customers sometimes use Ceph as an alternative to Swift in OpenStack deployments.
Ceph Enterprise 1.2 adds:
Red Hat Enterprise Linux OpenStack Platform 5 support
Tiering capability extending from high access rate to low access rate data
Erasure Coding – making it suitable for archival, cold storage use cases
Cache Tiering, enabling hot data to be moved onto high-performance media when it becomes active and cold data to be moved onto low-performance media when it is no longer active
Calamari v1.2 enables an administrator to manage the reliable autonomic distributed object store (RADOS) storage cluster, including the ability to manage individual storage devices and pool policies
Calamari is an on-premise Ceph cluster management app which Red Hat open sourced in May.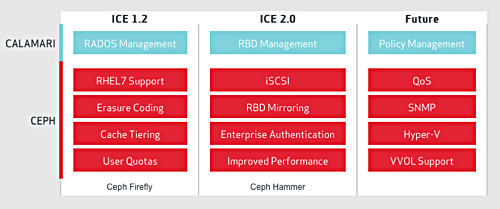 Ceph 1.2 and roadmap. Quotas prevent abuse with pool or object user storage limits.
Ceph Enterprise 1.2 is supported on Red Hat Enterprise Linux 6.5 and 7, Ubuntu 12.04 and 14.04, and Centos 6.4 and 6.5.
Steven Stover, Dell's director of engineered solutions, said: "We look forward to delivering Red Hat's Inktank Ceph Enterprise 1.2 to our customers in our Dell Red Hat Private Cloud Solutions."
Get a Ceph Enterprise datasheet here (PDF).
Seafoodnote: The term "Ceph" comes from the word cephalopod, a class of molluscs which includes the octopus and squid. The word "cephalopod" is based on ancient Greek words for head ( κεφαλή pronounced ke-pha-lee) and leg ( πόδι pronounced po-dhi).
Calamari is fried squid and, of course Inktank hooks into that concept by referring to squids' storage of black ink (melanin pigment in ink sacs) which it can squirt into the water to obscure itself when enemies approach.
Sponsored: Learn how to transform your data into a strategic asset for your business by using the cloud to accelerate innovation with NetApp