Say goodbye to landfill Android: Top 10 cheap 'n' cheerful smartphones
Holiday handsets you can afford to lose
EE Kestrel

EE's Kestrel bears more than a passing resemblance to Huawei's Ascend G6 4G and since the Kestrel is made by Huawei anyway, it's a fair bet that what we have here is essentially the same device, just tweaked to get the price down.
Sadly, the Kestrel has the same rather odd connector positioning as the G6 - micro USB at the top, 3.5mm audio at bottom left. The 4.5-inch qHD screen is bright and colourful and thanks to IPS tech, viewing angles are pretty impressive too.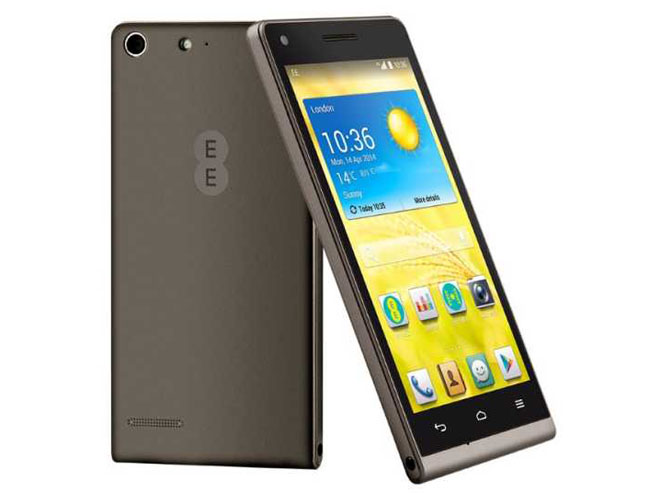 On top of Android 4.3, here you get Huawei's versatile and rather attractive iOS-like Emotion UI. The problem with Emotion is that it does away with the division between home screens and the app drawer, which is a fix to a problem that doesn't really exist.
Running the show is a Snapdragon 400 chipset with a quad-core 1.2GHz CPU, which gives the Kestrel a level of performance to match the Moto G – together with the same 8GB of onboard storage with a microSD slot and USB host support.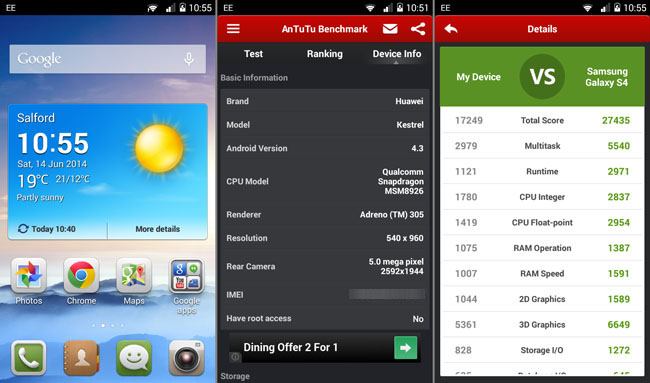 Homescreen and AnTuTu device info and rating – click for a larger image
Everything else about the Kestrel – looks, build-quality, battery life, speaker performance, picture quality from the 5MP camera – is entirely competent, if unexceptional. At £99, you can't realistically expect more. Indeed, for the money it is hard to criticise the Kestrel, although the baked-in Amazon apps (five of them) are overkill.
Motorola Moto E

The Moto E was always going to have a tough time following the G and it was onto a loser from the get-go in terms of media and public expectations. And so it was, because while the G was a stunning bit of kit for £120 back in late 2013, the E is merely a good value budget phone for £90 in summer 2014.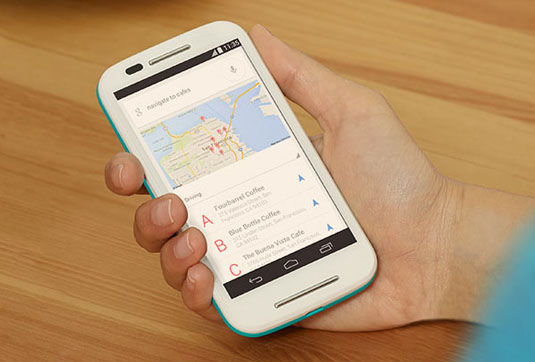 I don't want to sound too down on the E though. The 4.3-inch qHD IPS screen is impressive, as is the single loudspeaker, battery life reasonable and performance more than acceptable with even some pretty hard core gaming not managing to trip up the Qualcomm chipset. The E is also water resistant though I've not tested it to extremes.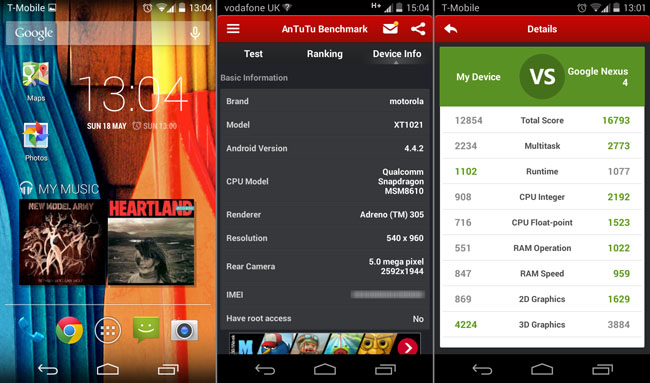 Homescreen and AnTuTu device info and rating – click for a larger image
In the minus column there's no webcam, which I still hold to be a truly daft decision by Motorola. The 5MP camera is fixed-focus – so say goodbye to checking barcodes – it lacks a flash and is frankly hopeless. I also can't shake the feeling that the 4G Moto G has been hiked in price to make the 3G-only E a more attractive proposition. I don't like those sort of games. Never have.
All in all not a bad little lump, but for only a few quid more, the Alcatel Idol S is a better bet, even if you don't get KitKat. The original 3G Moto G is also a good'un and it can still be found on store shelves both real and virtual for around £100.
Sponsored: Minds Mastering Machines - Call for papers now open