Out of Luczo, Seagate? Revenues and profits are shrinking again
Never mind, we've plenty of orders coming for H2 – Steve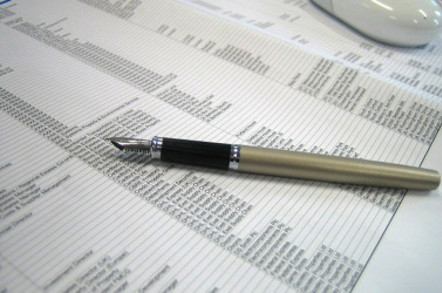 Seagate chairman and CEO Steve Luczo is watching his company's revenues and profits shrink for the second year in a row – Seagate's immense disk business business is spinning more slowly these days.
For its fourth fiscal quarter, ended 27 June, revenues were $3.3bn, 3.7 per cent down on last year's Q4 and 3 per cent down on the third 2014 fiscal quarter. Net income was $320m – it was $348m a year ago and $395m in the last quarter.
For the full fiscal 2014 year, revenues were $13.7bn – they were 14.4bn a year ago. Profits were $1.6bn – they were $1.8bn a year ago.
Seagate's bet on hybrid drives, ones with a small amount of flash cache on board to speed data access, hasn't paid off. Its recent development of directly addressed Kinetic drives is a multi-year effort, meaning it won't pay off, if it does, for a year at least.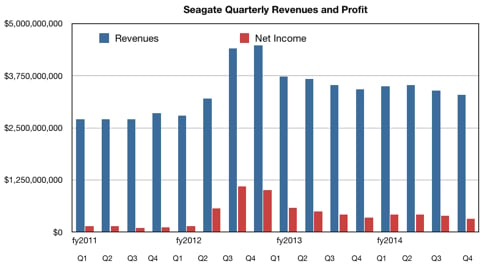 Seagate quarterly revenues and profits to Q4 fy2014. Clickk chart to see larger version.
What's happening to the numbers of disk drives it makes? It made 52.5 million in the quarter. A year ago it made 53.9 million.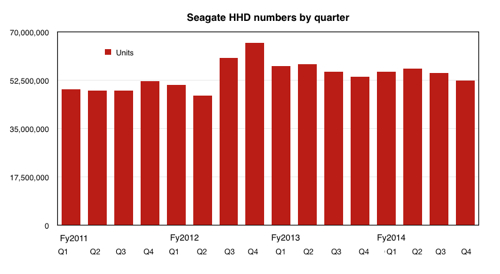 The falling PC market has probably caused a lot of this decline, but the focus on the cloud storage business has not helped, yet, and nor haa data reduction technologies like deduplication and copy data management.
The substitution of SSDs for fast enterprise disk drives is another factor affecting the HDD ship numbers.
The company is making three efforts to grow its business in the face of a stagnating PC business, lower enterprise HDD demand and SSD substitution:
It has bought Xyratex to vertically integrate upwards from enterprise disk drives into OneStor OEM drive enclosures and branded arrays, like Microsoft's StorSimple, and HPC storage arrays; the ClusterStor line.
It has expanded its flash total addressable market from SSDs by moving into the adjacent server flash card market through buying the LSI flash card business from Avago.
It has brought the EVault backup to the cloud via an appliance back under the Seagate brand and revamping the offering in September.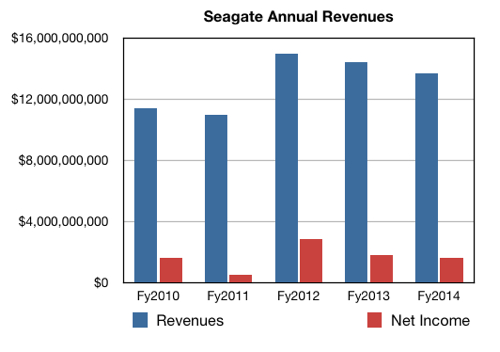 Seagate's recent annual revenues and profits; two years of decline.
Luczo's canned statement went like this: "Throughout fiscal year 2014, Seagate delivered strong financial and operational performance and returned significant value to shareholders. We made strategic investments in our technology portfolio, which enabled us to continue to innovate into higher capacity and power efficient storage solutions, and expanding our capabilities to serve a broader storage customer base in the future through new cloud systems and solutions and flash technology for connected storage."
He added: "As we plan for our next fiscal year, we remain focused on investing in our storage technology product portfolio to deliver high quality storage products and solutions for our customers, as well as continuing to create long-term value for our shareholders."
Chris says
Seagate has been buying back shares in what would appear to be a short term effort to keep up the earnings per share numbers and the share price up – and keeping investors happy. Luczo's team does not appear to be making gains in the product development area: witness the wasted hybrid drive effort.
However, Seagate does say that it is seeing higher capacity demand in the second half of calendar 2014 when the higher GB/drive - 6TB drive shipments should ramp up - as should cloud business demands. It has predicted revenues next quarter will be at least $3.5bn. Xyratex is looking healthy, with a 210 per cent year-on-year growth in the ClusterStor business.
Stifel Nicolaus' MD Aaron Rakers said: "Seagate … highlighted the traction it is generating with key OEMs with its hybrid drive. Seagate expects to ship +2.5 million hybrid drives in F1Q15 (that's the next quarter)".
He added: "Seagate … expects capacity shipped will reaccelerate in 2HC2014 as cloud service providers launch new services that heavily utilise HDDs."
The single most important strategic issue that we think affects Seagate is starting the vertical integration of its flash business downwards into flash foundries through a strategic relationship with, or financial investment in, a flash foundry operator.
Disk drives are a maturing technology and non-volatile memory is the coming thing. Seagate has to spin up its flash business while its disk drive operations are beginning to spin slower and before competitors, like Intel, Micron, and SanDisk, seize the flash market high ground. ®
Sponsored: Minds Mastering Machines - Call for papers now open