Why has sexy Apple gone to bed with big boring IBM?
The Big Blue Apple affair: Inspired by Jobs, driven by Microsoft and Android
Is Apple in danger of becoming the next Nokia or RIM?
The Reg's Simon Rockman writes here that there exists a duopoly in phones, only membership of that duopoly is never secure. Ericsson and then Nokia became drunk on an arrogance born through majority market share, and got their crowns knocked off.
As Rockman writes, only of Microsoft: "Wars are not usually won. They are lost."
It would seem Apple's time has been and gone. Long-term decline is here – not to non-existence, but at least to a new normal on market share. Rather like the Mac – single-digit but entrenched figure in the business desktop landscape.
Apple and the enterprise
The question for Apple, then, is, how does all this consumer setback feed into the enterprise, and will this contagion spread into tablets?
How does Apple stop the iPad and iPhone following the Mac into six per cent market share?
It's not that Android is the only plume of dust on Apple's device horizon. There's Microsoft, too...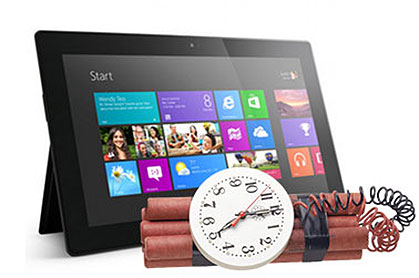 OK, Surface didn't do too brilliantly ... But enterprise is familiar with Microsoft.
Sure, laugh it up – I would, too. Windows Phone has less than five per cent of the market and for every Surface sold costs Microsoft money. But Microsoft offers the enterprise something Apple doesn't: security and familiarity.
CIOs are a pragmatic people – their firms are often tied to Microsoft IT and skills, too, as Windows has a broad, well-understood product line.
CIOs I speak to like the fact Windows can be controlled and managed via Active Directory. Suddenly your network is more secure from rogue operators and you can lock things down, and stop viruses and spyware being downloaded.
Furthermore, there's the idea that apps can be built for Windows Phone and Windows 8 using tools their techies know – Visual Studio – not using tools or sandboxed runtime unique to a company that's relatively unimportant in corporate IT.
Microsoft this week held its Worldwide Partner Conference (WPC), where it demonstrated an app running exactly the same way, with exactly the same UI, on a Windows PC, tablet and Windows Phone.
That ubiquity and cross-platform portability, without the need to re-code or building separate versions of your apps, will be compelling for any CIO.
And if you think Windows 8 is the biggest hurdle in stopping all of this, think again: Microsoft is pulling back from the Metro-or-bust approach of Windows 8.