Why has sexy Apple gone to bed with big boring IBM?
The Big Blue Apple affair: Inspired by Jobs, driven by Microsoft and Android
Remote control for virtualized desktops
Shocked by IBM's deal to sell and support iPads and iPhones in the enterprise?
You only have to look at Jean Pigozzi's photo of Steve Jobs in his younger, rebellious years flipping the middle finger to the stuffed shirts at IBM while standing outside their stuffy offices in New York City to see just how far apart "cool" Apple once was from "legacy" IBM.
Ah, glory days, when IBM had just released its first boring personal computer while the seven-year-old Apple was poised to throw its first beautifully conceived Macintosh at it.
But business is business, it seems.
The recent enterprise deal between the two firms also seems counter to the logic of BYOD – bring your own device to work, something we've been hit over the head with for the past few years.
BYOD works like this: consumers like iPhones, they buy iPhones, consumers work for companies, those consumers bring their iPhones to work place.
Not only that, but Apple enjoys 15 per cent of the global smartphone market, according to Gartner. Apple's iPad is 36 per cent of the tablets with the iPad.
So why would Apple get its hands covered in blue?


The partnership with IBM sees the computing and services giant agreeing to sell iPads and iPhones loaded with 150 IBM business apps ported to iOS.
Apple does the easy bit – support.
The IBM-Apple deal comes at a timely moment – a moment when there are signs that we could be at a tipping point in Apple's dominance of corporate devices.
Apple's smartphone presence has been in near permanent retreat since the arrival of Android and with the ascendancy of Samsung's Galaxy phones.
Peak Apple was in the last quarter of 2011 – taht was when the firm held 25 per cent of the worldwide share for devices sold by vendor, according to Gartner. On tablets, Apple is now losing share while Android gains – Android grew at 127 last year while the market share of iOS shank.
In the context of the supposed BYOD backdraft from consumer to enterprise, this is bad news for Apple.
Somebody else used to have massive market share in mobile phones, too. Who was it? Let me think. Ah, yes: Nokia. And in the enterprise, RIM.
Is Apple in danger of becoming the next Nokia or RIM?
The Reg's Simon Rockman writes here three exists a duopoly in phones, only membership of that duopoly is never secure. Ericsson and then Nokia became drunk on an arrogance born through majority market share, but got their crowns knocked off.
As Rockman writes, only of Microsoft: "Wars are not usually won. They are lost."
It would seem Apple's time has been and gone. Long-term decline is here – not to non-existence, but at least to a new normal on market share.
Rather like the Mac – single-digit but entrenched figure in the business desktop landscape.
The question for Apple, then, is, how does all this consumer setback feed back into the enterprise, and does this contagion spread into tablets?
How does Apple stop the iPad and iPhone following the Mac into six per cent market share?
It's not that Android is the only plume of dust on Apple's device horizon. There's Microsoft, too...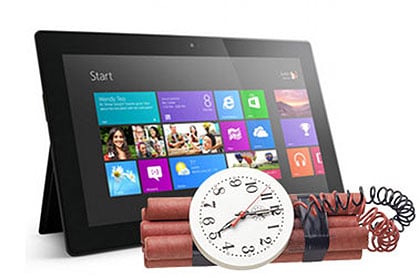 OK, Surface didn't do too brilliantly... But enterprise is familiar with Microsoft
Sure, laugh it up – I would, too. Windows Phone has less than five per cent of the market and for every Surface sold costs Microsoft money. But Microsoft offers the enterprise something Apple doesn't: security and familiarity.
CIOs are a pragmatic people – their firms are often tied to Microsoft IT and skills, too, as Windows has a broad, well-understood product line.
CIOs I speak to like the fact Windows can be controlled and managed via Active Directory. Suddenly your network is more secure from rogue operators and you can lock things down against viruses and spyware getting downloaded.
Furthermore, there's the idea that apps can be built for Windows Phone and Windows 8 using tools their techies know – Visual Studio – not using tools or sandboxed runtime unique to a company that's relatively unimportant in corporate IT.
Microsoft this week held its Worldwide Partner Conference (WPC), where it demonstrated an app running exactly the same way, with exactly the same UI, on a Windows PC, tablet and Windows Phone.
That ubiquity and cross-platform portability, without the need to re-code or build separate versions of your apps, will be compelling for any CIO.
And if you think Windows 8 is the biggest hurdle in stopping all of this, think again: Microsoft is pulling back from the Metro-or-bust approach of Windows 8.