Seventh-gen SPARC silicon will accelerate Oracle databases
Uncle Larry's mutually-optimised stack to become clearer in August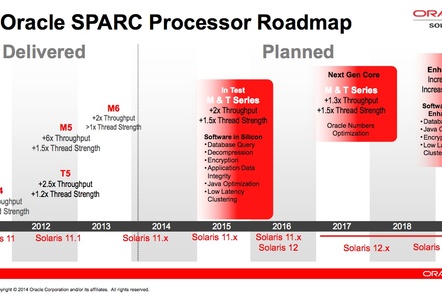 Oracle will soon detail the SPARC 7 architecture, and how it includes new in-silicon features designed to make Big O's databases and applications achieve better performance in an all-Ellison environment.
John Fowler, Oracle's executive veep of systems, today told The Reg that the company will reveal details of the new silicon at the Hot Chips conference in August.
While Fowler did not offer deep detail, but said Hot Chips attendees could expect to learn of "database acceleration, security and reliability features".
Fowler's presentation also put the company's overall hardware strategy into perspective, as he described how it differentiates its engineered systems from converged infrastructure rivals by including database-and-middleware optimisation tools that optimise performance of Oracle software when running on its own kit.
Adding in-silicon features to do likewise is an important step. The likes of Intel certainly work with key vendors to ensure new chippery can handle modern workloads. Chipzilla has, for example, made sure recent Xeons are tuned to the needs of workloads like Hadoop. Oracle doing likewise, but for its own software, is an intriguing step because it ships chips at tiny volumes compared to Intel or even AMD. The company clearly believes that customers will happily put all their eggs in its basket in return for performance gains. Indeed, Fowler said he feels Oracle's approach represents "a more conservative choice because we test before the silicon is released" as opposed to the risks that come with assembling a stack from best-of-breed bits.
Fowler also feels Oracle can escape accusations of lock in by pointing out that its applications can happily be taken to other architectures.
We'll all know more about this come August 10th, the opening day of Hot Chips 2014. ®
Sponsored: Minds Mastering Machines - Call for papers now open