What! is! the! point! of! Yahoo?! To! sell! more! and! more! ads! says! CEO! Mayer!
2014 not as bad as 2012, says Marissa as sales slide further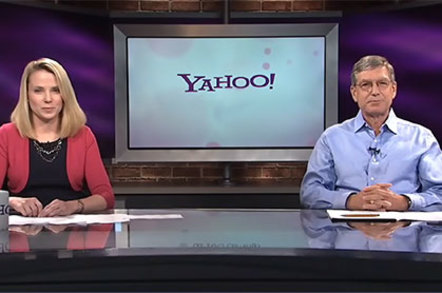 Yahoo! execs are disappointed but optimistic as the web biz was once again unable to turn around declining revenues in its most recent quarter.
The Purple Palace reported revenues of $1.08bn, down four per cent from the previous year's quarter and below analyst estimates. Earnings per share were up five per cent to $0.37, but still below estimates.
Display advertising revenues decreased by 8 per cent, and the amount of revenue collected per ad sold was down 24 per cent.
"Our top priority is revenue growth and by that measure, we are not satisfied with our Q2 results," CEO Marisa Mayer said in announcing the returns on a conference call.
"While several areas showed strength, their growth was offset by declines."
Though Mayer was not upbeat about this quarter's returns, the Yahoo! boss noted that overall the company is in far better shape than it was in previous years as the advertising giant has struggled with a string of failed turnaround pushes.
"Transformation is not a singular event, it is a series of events and quarters," Mayer offered.
"Two years ago, Yahoo! lacked a clear vision for the future and some of the key fundamentals to build a vibrant growth business."
Mayer hopes to ramp up sales of premium ads, and spaff out more branded content and stuff for mobile devices. She noted that the company's Gemini platform brings in half of Yahoo!'s mobile display revenues, and for the first time since 2010, the company is able to serve its own US mobile search ads.
The aimless biz, which owns Flickr, is also optimistic about its continuing stake in Alibaba. The Chinese giant has been a huge revenue generator for Yahoo! since co-founder Jerry Yang pushed for the investment, and was considered a bright spot in Yahoo!'s darkest days.
Faced with the possibility of having to divest itself after the Alibaba IPO, Yahoo! said it agreed to deals that will cut the number of shares it will offer up for sale from 208 million to 140 million.
For Yahoo!, the deal will not only mean that it gets to keep more of its lucrative stake should Alibaba continue to increase in value, but would also help keep down what is expected to be a hefty tax liability to be incurred from the payout on the stock sale. ®
Sponsored: Minds Mastering Machines - Call for papers now open