Donahue grabs Atlantis double crown: Takes CEO and pres titles
Virtual software firm's former CEO goes upstairs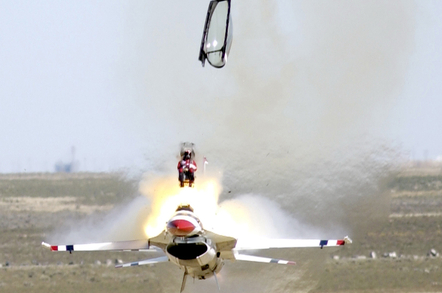 Atlantis Computing, the ILIO VDI and USX VMware acceleration software company, has replaced its CEO. Jason Donahue will be taking over from Bernard Harguindeguy.
Donahue becomes CEO and president and joins the board. Chetan Venkatesh, the chief technology officer and founder of Atlantis, said: "Jason Donahue is someone who understands disruption very well having lived it in the course of building several great technology companies. We welcome him to Atlantis as our chairman and CEO and feel confident that under his leadership Atlantis will achieve and exceed its mission and vision."
Who is Donahue?
We're told he's an experienced CEO who "previously served in the CEO roles at Vertex, a $150m revenue IT services provider to North American utilities; Acronis, a $150m revenue backup & recovery software company; ClearApp, an application management company acquired by Oracle; Meiosys, a virtualisation software company acquired by IBM; Ejasent, a virtualisation software company acquired by Veritas; Apptix, a managed service provider which he took public; and TeleComputing, a publicly listed managed service provider".
Nicolas El Baze, a general partner at Partech Ventures and an Atlantis board member, said: "I have served as an investor and board member in two companies that Jason has run, and Atlantis is certainly amongst the most interesting storage/virtualisation companies we've ever seen at any stage. Atlantis has already shown impressive growth over the last few years, but I know that Jason will take Atlantis to an entirely new level."
Other investors include Cisco and El Dorado Ventures. We understand El Dorado partner Charles Beeler is on the Atlantis board.
Atlantis raised $20m in a D-round of funding in May 2013, and that was led by Adams Street Partners with the other three investors piling in too.
Harguindeguy told the Reg a little while ago: "We have not burnt cash in four years and will never do that. Our customers are funding our business."
That would put more emphasis on revenue cash being used to build the company.
The funding and CEO-level event history of Atlantis looks like this:
Founded 2004 with Venkatesh and others putting in cash
$5m from A-round and B-round somehow
December 2009 - Bernard Harguindeguy becomes CEO after working with Venkatesh for some time
July 2010 - $10m in C-round
May 2013- $20m D-round
July 2014 - Jason Donahue takes over as CEO
Total funding is $35m, not a lot in the overall scheme of things. We think Donahue's task is to grow the company much faster than the rate at which it has been growing and an IPO or, possibly – based on his history – we think an acquisition.
Venkatesh said Atlantis was founded to solve storage hardware problems: "In our view, storage is not a hardware problem but that hardware is the problem and to solve that you need intelligent software that disrupts the current paradigm of expensive and proprietary SAN & NAS."
A possible problem here is that VMware has legitimised the virtual SAN idea, leaving Atlantis with much less of a storage hardware problem to solve.
When asked about VSAN Venkatesh told us: "Atlantis USX can be deployed across shared storage, Server SAN, or as a hyper-converged implementation, so we view VSAN as absolutely complementary to USX.
"In fact we have started to field requests from customers who have deployed VSAN and have heard how we deliver a performance boost while supporting up to 5x the workload on VSAN to drive down the cost per desktop or workload."
Donahue's canned announcement read: "No other company has product that provides the order-of-magnitude improvement in storage performance and capacity across SAN/NAS, local server storage and the cloud. I look forward to leading the company through this next phase of rapid growth and geographic expansion."
The announcement release boasts that:
On a year-over-year basis Atlantis grew bookings 80 per cent
It added over 100 new customers and signed over 60 new partners in the first half of 2014
It added multiple distribution agreements to expand geographic coverage and accelerate "partner onboarding", including Ingram Micro (North American), Miel (France), Olly (Russia), Prianto (Netherlands), Mindwave (Middle East), and TrackITOnline (ANZ)
So why, if things are going so well, was it necessary to change the CEO? Venkatesh responded to this point by saying: "We are ... in the midst of a transition from an important but ultimately niche VDI storage optimisation player to becoming the most advanced and flexible software-defined storage vendor in storage. This transition as you know has opened up a market for us that is easily 30-50x larger than the VDI market alone.
"The board has asked Jason Donahue to come on board to lead the next phase of growth given his proven track record of operational execution in later stage, hyper-growth start ups. He has done this successfully at several venture backed storage and virtualization startups in the last 15 years."
He said the CEO change signalled the "positioning of Atlantis for an IPO trajectory." He says it wants to "maintain our independence to become an even more disruptive storage player than Nimble, Pure or Nutanix."
And Bernard Harguindeguy? "There is tremendous respect and gratitude for what Bernard did for Atlantis – he remains connected to the company as a board member and will help the board with strategy and planning." ®
Sponsored: Minds Mastering Machines - Call for papers now open