Google's Pankhurst doodle doo-doo shows the perils of using Google to find stuff out
El Reg DOES do Google Doodle 'stories' sometimes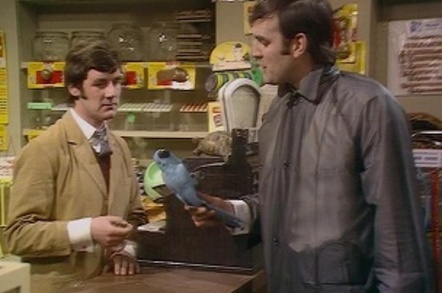 Google appears to have relied on, er, crowd-sourced facts from Wikipedia for its latest Doodle, which celebrates the 156th birthday of British suffragette Emmeline Pankhurst. The vast advertising firm suggests in its sketch that the women's rights' campaigner was born on 15 July 1858.
Googling "Emmeline Pankhurst" will also get you an instant scrape from Wikipedia, showing the famed feminist's birthday as the 15th.
But Pankhurst's birth date is contested by many more authoritative voices, including the Encyclopaedia Britannica and the BBC, which note that the famed political activist - whose maiden name was Goulden - was born in Manchester on 14 July 1858.
Elsewhere, the Salford City Council makes the following claim about Pankhurst:
According to the register of births, Emmeline Goulden was born in Moss Side, Manchester to a calico printer and his wife on 15 July 1858, though confusion surrounds the precise date.

She always claimed to have been born on 14 July - Bastille Day. Did she choose the more romantic date of Bastille Day for her own birthday, a date which marked the start of the French Revolution, with its links to justice and equality?
But Chiltern District Council refuses to be pinned down to the correct date, preferring to say:
Emmeline Goulden was born on either 14 or 15 July 1858, and grew up in a socially and politically active family. Her father was part of the anti-slavery campaign, and her mother was a keen feminist. In 1879, she married Dr Richard Pankhurst, who was a member of the Independent Labour Party and was particularly interested in women's suffrage.
Wikipedia, though, boldly insists that Pankhurst was born on 15 July 1858. Much further down the page, though, it alludes to the fact that Ms Pankhurst herself contested this:
Emmeline Goulden was born on 15 July 1858 in the Manchester suburb of Moss Side. Although her birth certificate states otherwise, she believed that her birthday was a day earlier, on Bastille Day. Most biographies, including those written by her daughters, repeat this claim.

Feeling a kinship with the female revolutionaries who stormed the Bastille, she said in 1908: "I have always thought that the fact that I was born on that day had some kind of influence over my life." The reason for the discrepancy remains unclear.

It woz Google wot won it, right?
British newspapers including the Independent and the Mirror have largely fallen into the Google Doodle trap by parroting the ad giant's Wikipedia knowledge and stating that Pankhurst was born on 15 July 1858.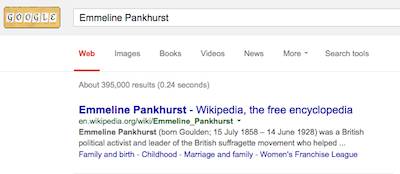 Oh yeah, if Wikipedia sez it, it must be troooo
But then, who needs fact-checking when Google is the absent-minded history teacher who does his homework on Wikipedia? ®
Suffragette-note
A tip of the elaborate Pankhurst hat goes to Reg reader Adam, whose mum was quick to spot Google's error.
"I thought you might be interested to know that today's Google Doodle is incorrect: Mrs Pankhurst's birthday was in fact the 14th July, not the 15th. Looks like they got it from Wikipedia," he wrote.
"The reason I know this is that my mother is probably the last remaining authority on the suffragettes and has met a lot of them. She let me know this morning."
Good for her. Up the women!
Sponsored: Minds Mastering Machines - Call for papers now open