Virty server bones thrown: Gartner mages see Microsoft rising
What a shock, VMware in the lead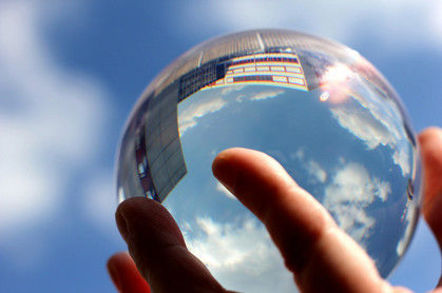 Gartner's server virtualisation magic quadrant shows virtualisation juggernaut VMware sitting at the top of the pack for the fifth year running, with Citrix down in the niche player dumps along with Red Hat.
There are just two suppliers in the leader's quadrant: VMware and Microsoft. Oracle is the only challenger and that by a narrow margin separating it from the niche player's box. The nichers are Parallels, Citrix, Red Hat and Huawei. There are no "visionaries", server virtualisation is now a startup-free zone.
Indeed, the only threat to VMware's hegemony is the idea of containers, as espoused by Google, Docker and the oddly named Kubernetes open source group. The latter is a technology that looks awfully like 1990s-era multi-tasking reinvented – a way for applications to share a single copy of the operating system instead of having full copies in each virtual machine (VM).
Here's the server virtualisation MQ chart: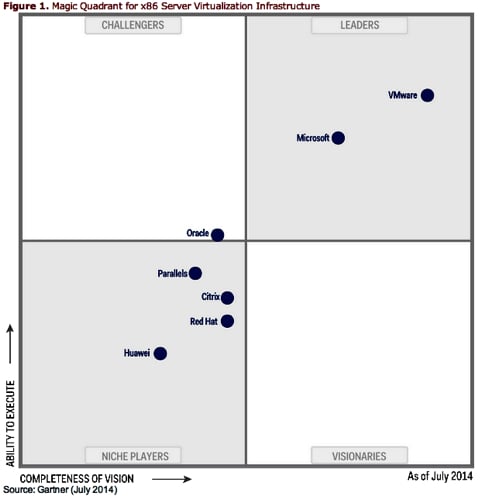 A tweet from Veeam Russia – @Veeam_ru – plots how supplier positions have changed over five years of this server virtualisation MQ, showing how the positions of Oracle, Parallels, Citrix and Red Hat have changed, and fascinating data it is.
Microsoft has made steady progress since 2010 as it tries to catch up with VMware. Citrix entered the leader's quadrant in 2011, coming from the "visionaries" box, but exited it in 2013. The Gartner report says:
Essentially, Citrix is no longer investing strictly to keep up with market leaders VMware and Microsoft for traditional server virtualisation. Instead, Citrix is focusing its energies on making XenServer an attractive hypervisor for two markets: cloud infrastructure (optimising integration with its own CloudPlatform offering), and desktop virtualisation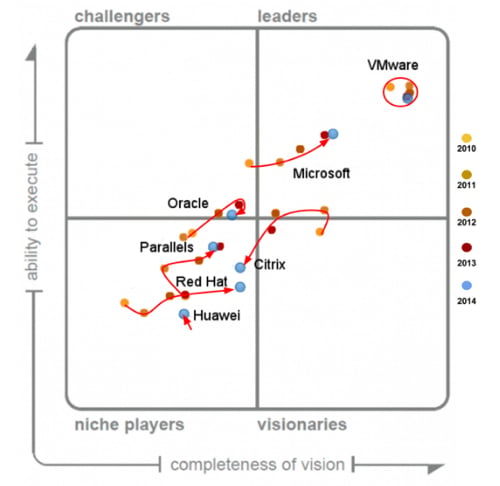 Gartner's Quadrant x86 virtualization in 2014. See what has changed in five years
Over the last five years, Oracle managed to climb out of the niche players' box. It became a "challenger" in 2012, a stronger one in 2013, but is now weaker and could be returning to nichedom.
Parallels has become a stronger niche player while Red Hat could be said to have languished, although it's getting stronger in, er, "vision". Huawei entered this MQ for the first time this year.
It seems that the server virtualisation market battleground is moving to the cloud, with Kubernetes' containerisation of Linux positioned to take on VMware. It's being supported by CoreOS, Docker, Google, IBM, Mesosphere, Microsoft, Red Hat and SaltStack.
We might ponder on the possibility of VMware developing its own containerisation technology, leaving a stub of operating system calls in each VM and having the core operating system code running with/below its hypervisor. For example, an ESXi host could have upper level VMs running Windows, Linux and other OS', with lower level, application-running VMs calling them for resources.
Essentially, the Kubernetes effort says VMware wastes server CPU and DRAM resources by having multiple copies of operating system code in server memory. How wasteful – hasn't VMware heard of deduplication? ®
Sponsored: Minds Mastering Machines - Call for papers now open